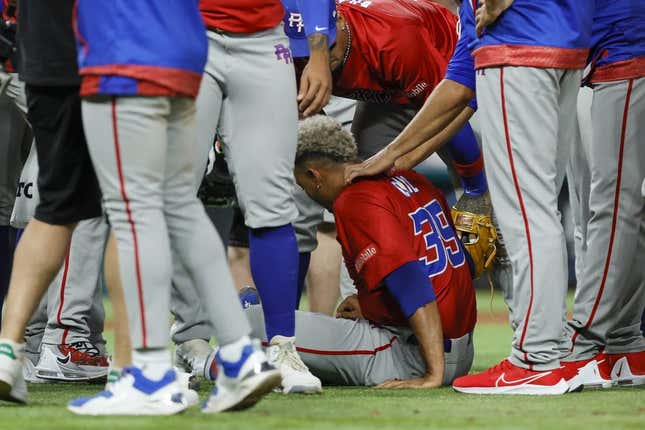 New York Mets injured closer Edwin Diaz said Wednesday he hopes to return this season after surgery to repair his torn patellar tendon last month
Bass' ERA stinks, but not compared to who he is off the mound | Worst of the Week Countdown
Diaz spoke to reporters Wednesday for the first time since suffering the injury after a World Baseball Classic game last month. The expectations on recovery from surgery were six to eight months. A six-month recovery would be September.
"If everything goes well, I think I can be back sooner than that eight months," Diaz told reporters. "Everything is going in the right direction right now ... and the doctors say I'm doing great. So I'm really happy."
Diaz was injured celebrating Puerto Rico's victory over the Dominican Republic in Miami on March 15.
The right-hander closed out the game and was celebrating with his teammates in a huddle when he injured his knee. He dropped to the ground and was carried off the field to a wheelchair.
David Robertson has the only two saves for the Mets so far this season
Diaz, 29, posted 32 saves in each of the past two seasons with the Mets, earning his second All-Star Game nod in 2022. He was an All-Star with the Seattle Mariners in 2018, when he led the majors with 57 saves
He's 16-29 with a 2.93 ERA with 205 saves in seven seasons.
Diaz signed a five-year, $102 million contract with the Mets in the offseason
--Field Level Media