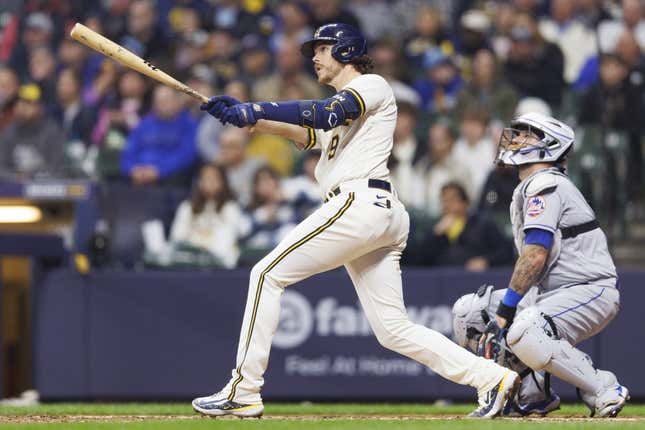 The scuffling New York Mets, who are trying to rediscover their offense, face a tough task when they oppose Brewers ace Corbin Burnes on Wednesday in the finale of a three-game series in Milwaukee
The Mets, who were shut out 9-0 on Tuesday night after falling 10-0 in the series opener, will start left-hander David Peterson (0-1, 1.80 ERA) against Burnes (0-1, 7.20)
The Brewers, who have won four straight after an Opening Day road loss to the Chicago Cubs, pounded out five home runs on Tuesday, including three in a row in the sixth inning off Max Scherzer
The consecutive solo shots by Rowdy Tellez, Brian Anderson and Garrett Mitchell off Scherzer put Milwaukee up 5-0. The Brewers went back-to-back again in the seventh on Anderson's three-run homer and another solo shot by Mitchell
"Anytime you hit three homers in a row it's surprising," Brewers manager Craig Counsell said. "But we're swinging the bats good. We've got a lot of guys swinging the bats good. A couple great nights from B.A. (Anderson) and Mitch tonight.
Wade Miley tossed six scoreless innings for his 100th career victory and three relievers kept the Mets off the board. It is the first time in club history that the Brewers posted shutouts in their first two home games of the season. Milwaukee starting pitchers have thrown 15 1/3 consecutive scoreless innings over the past three games
The Mets, who won three of four at Miami in their opening series, have not scored since the seventh inning in a 5-1 win over the Marlins on Sunday
"Always give credit to the other pitcher," New York manager Buck Showalter said. "They're doing a pretty good job. Had some well-pitched games against us in Miami and scored enough runs to win three out of four there. We'll try to have a winning road trip (Wednesday) against a very good pitcher."
Anderson, signed by Milwaukee as a free agent in January after he spent his first six seasons with the Marlins, is 8-for-15 (.533) with three homers and 10 RBIs. Capable of playing numerous positions, Anderson is filling in at third base for Luis Urias (hamstring).
"He's off to a great start," Counsell said. "With Luis getting hurt, too, it's made him really critical. For him to be swinging the bat well, a big boost for sure."
Burnes, 23-13 over the last two seasons and the 2021 National League Cy Young Award winner, allowed four runs in five innings on Opening Day, a 4-0 loss to the Cubs. All of the damage against him came in the third inning.
Burnes is 2-1 with a 3.04 ERA in five career games vs. the Mets, including four starts. He was 1-1 last season against New York, allowing seven runs in 11 2/3 innings
Peterson allowed just one run on a solo homer in five innings in his first start, but he was saddled with the defeat in a 2-1 loss at Miami on Friday. He gave up eight hits, struck out five and walked one.
Peterson was 7-5 with a 3.83 ERA last season with the Mets in 28 games, including 19 starts. His final five appearances were out of the bullpen. The left-hander is 0-1 with a 9.64 ERA in two career appearances (one start) vs. Milwaukee, having allowed five runs in 4 2/3 innings
--Field Level Media