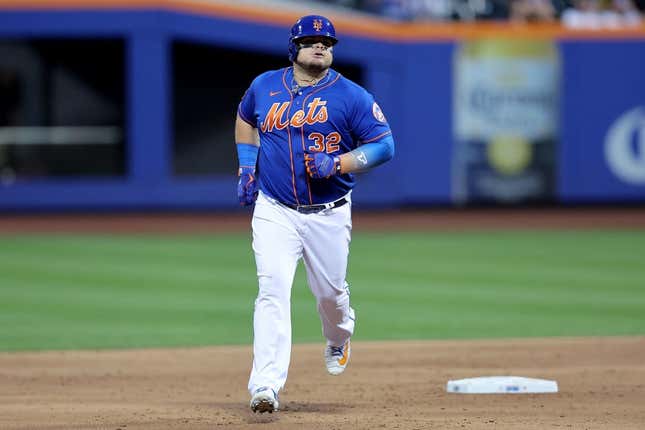 The New York Mets haven't lived up to expectations this season, but their offense has enjoyed a bit of resurgence the past two days.
How running an NFL team is like running a restaurant | Chef Emeril Lagasse
The Mets will look to clinch a series win on Tuesday night when they host the Pittsburgh Pirates in the middle game of a three-game set.
David Peterson (3-7, 5.61 ERA) is scheduled to start for the Mets against fellow left-hander Bailey Falter (0-7, 5.21 ERA).
The Mets won a second game in a row for the first time this month on Monday, when Daniel Vogelbach, Jonathan Arauz and Brandon Nimmo homered in a 7-2 victory.
The homers highlighted a balanced attack for the Mets, who scored in each of the first six innings during a home game for the first time since June 25, 1987. Seven New York starters had at least one hit, but only Nimmo and Francisco Lindor had two hits.
"Was a good game for us," Mets manager Buck Showalter said. "Good to see some of those guys contribute."
New York also drew four walks — including three against Pirates starter Quinn Priester, who threw 102 pitches in just five innings.
"We scored in how many innings? Six?" Showalter said. "Yeah, that was good to see. Lot of good at-bats, deep counts."
The Mets beat the Pirates one night after collecting 10 hits — but just one for extra bases — and drawing two bases-loaded walks in a 7-6 win over the Atlanta Braves.
When the Mets went 101-61 last season, they finished second in the NL in on-base percentage and were tied for third in runs despite ranking eighth in homers.
Though the Mets got back on track on Monday, the Pirates experienced growing pains with Priester, one of five rookie pitchers to make a start for the team this season.
Priester, a 22-year-old making his sixth career start, squandered an early lead and gave up three two-strike, run-scoring hits — the homers by Vogelbach and Arauz as well as an RBI double by Pete Alonso.
"You're always looking for those things to get better at," Priester said, per MLB.com. "You have starts like tonight where there's a lot of things you can get better at."
Peterson is scheduled to make his third start since returning to the Mets' rotation earlier this month. On Wednesday, he didn't factor into the decision after allowing two runs over 3 2/3 innings in New York's 4-3 win over the Chicago Cubs. He gave up one run in 2 1/3 innings of relief in his lone career appearance against the Pirates, last Sept. 17.
Falter, who was acquired from the Philadelphia Phillies on Aug. 1, made his second start with the Pirates on Thursday. He didn't factor into the decision after giving up four runs over four innings in Pittsburgh's 7-5 win over the Braves. He is 1-1 with a 3.27 ERA in three career games (two starts) against the Mets.
—Field Level Media