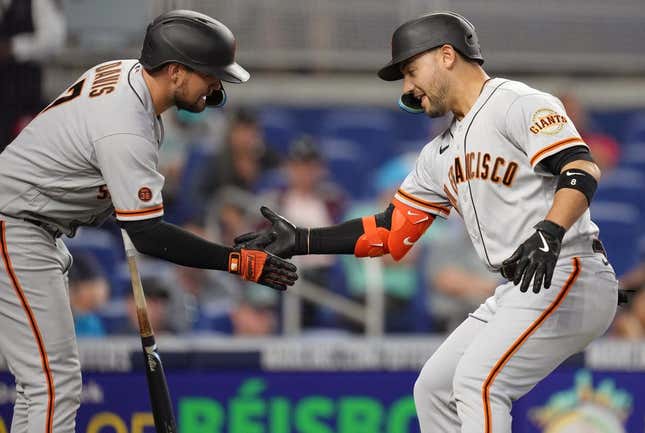 Michael Conforto gets his first shot at opposing his old mates Thursday night when the San Francisco Giants open an eight-game homestand with a matchup against the New York Mets
Bass' ERA stinks, but not compared to who he is off the mound | Worst of the Week Countdown
A first-round pick in 2014, Conforto spent the first seven years of his major league career with the Mets before being forced to sit out the 2022 season following shoulder surgery
He signed with the Giants as a free agent in January, then saw his comeback stalled by a calf injury sustained after he'd played 11 regular-season games, during which he hit .225 with three home runs
The 30-year-old served only as a pinch hitter and designated hitter during the Giants' just-completed five-game trip to Detroit and Miami. The journey that was in jeopardy of seeing San Francisco finishing winless until Conforto lashed a two-run homer as part of a four-run 11th inning in a 5-2 win over the Marlins on Wednesday
Giants manager Gabe Kapler noted after the game that Conforto felt no pain in the calf while rounding the bases. Still, Conforto likely will be restricted to DH duties in the Mets series
"Important win there," Kapler said of the team's first after a five-game losing streak. "Demonstrated how important Conforto is for this team. It confirmed we needed to go slow (with the calf rehab) because we're going to need him for a long period of time."
Conforto is expected to step in against Mets newcomer Kodai Senga (2-0, 3.38 ERA) in the series opener
The Mets will attempt to extend their hot play on a trip that has seen them swept three straight from the Oakland Athletics before taking two of three against the Los Angeles Dodgers
Senga pitched in the Oakland segment of the tour of California and endured his roughest outing of the season, charged with four runs on seven hits with four walks in 4 2/3 innings on Friday. The right-hander was one out away from recording a third consecutive win before getting pulled with the Mets on their way to a 17-6 romp
Senga, who is just three games into his major league career, has never faced Conforto nor the Giants
Heading into his first appearance at San Francisco could be a concern after Senga admitted that being unfamiliar with the Oakland Coliseum hindered his preparation last week.
"I think (long innings in the dugout, the result of A's pitchers walking 17 batters) played a factor to some degree and a new ballpark I never pitched in before," he said of his struggles. "Even still, it's up to me to prepare. I needed to concentrate harder than usual, which I wasn't able to do."
San Francisco is expected to counter with Sean Manaea (0-0, 4.76 ERA). The left-hander has nothing to show for his past two starts despite holding the Kansas City Royals and Detroit Tigers to a total of three runs and seven hits in 9 1/3 innings.
The 31-year-old has faced the Mets just twice in his career, going 1-0 with a 3.55 ERA. The win came last June as a member of the San Diego Padres
Manaea can expect to see lefty-killing Mets outfielder Tommy Pham in the lineup. Pham is 5-for-8 with a double and two home runs off Manaea in his career
The Mets have attacked the A's and Dodgers from multiple angles. Brandon Nimmo is 13-for-26 so far on the trip, Francisco Lindor has driven in nine runs and Lindor and Pete Alonso have each hit two home runs
Nimmo, Pham, Mark Canha and Daniel Vogelbach also have contributed home runs on the trip.
Meanwhile, relievers Jeff Brigham, Brooks Raley, Denyi Reyes and Drew Smith have combined to allow just three hits in nine scoreless appearances, helping New York complement a 17-6 romp with two one-run wins and a pair of two-run triumphs.
--Field Level Media