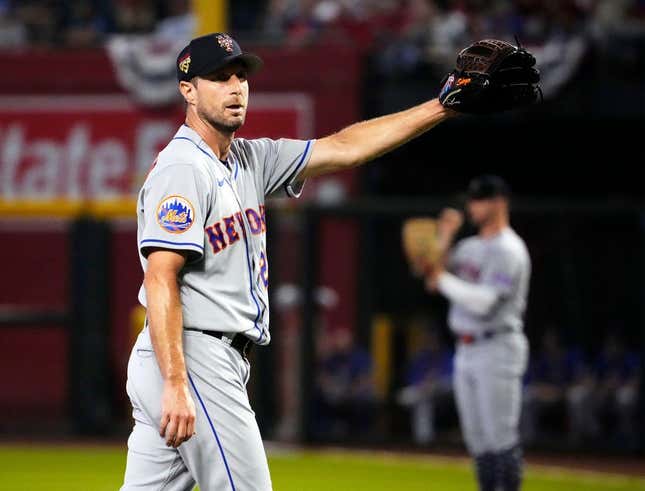 To say that New York Mets right-hander Max Scherzer has dominated the San Diego Padres throughout his 16 seasons in the majors would be an understatement
Is Texas or Florida State a bigger national title contender? | Agree to Disagree
In 18 career starts against the Padres, Scherzer is 7-3 with a 2.76 ERA, a 0.910 WHIP and a .185 opponents' batting average while averaging more than 12 strikeouts per nine innings. The results have been even better in San Diego, where he is 3-1 with a 2.61 ERA across seven starts
That dominance will be tested Sunday, when Scherzer and the Mets return to Petco Park to face right-hander Joe Musgrove and the Padres in the rubber match of a three-game set on the final day before the All-Star break
Amid Scherzer's command power over the Padres, he also had a Petco start that he would probably like to forget. While pitching for the Washington Nationals on July 8, 2021, the three-time Cy Young Award winner took an 8-0 lead into the bottom of the fourth before disaster struck
What followed couldn't happen today. Padres relief pitcher Daniel Camarena hit a grand slam off Scherzer in what turned into a seven-run inning, and San Diego went on to complete the comeback to win 9-8
Actually, that makes Scherzer's numbers against the Padres even more impressive. Take the two-thirds of an inning in which Scherzer allowed the seven runs away and his career ERA against the Padres would be 2.22, while his ERA in San Diego would be a measly 1.11
But the numbers that mean the most to both Scherzer and Musgrove going into Sunday's meeting are this year's.
Over his first five starts this season, Scherzer had a 5.56 ERA, although he did shut out the Padres on one hit and three walks with six strikeouts over five innings to earn the win in New York on April 10
In his past 10 starts, however, Scherzer is 6-0 with a 3.45 ERA, although he gave up four runs on five hits in six innings on Tuesday against the Arizona Diamondbacks in Phoenix.
"He competes," Mets manager Buck Showalter said recently of Scherzer. "The aura and feeling of the game when he is out there, people feed off that. He's smart, but he's competitive. He doesn't let his emotions get in the way of giving us a chance to win. He's pitching well. He's run off some good ones. There's an ebb-and-flow to every season with pitching
"I think him getting on a normal rotation every fifth day has made him more confident."
Musgrove knows the feeling of beginning the season slowly. He was 1-2 with a 6.75 ERA in his first five starts. Over his last eight starts, however, Musgrove is 6-0 with a 2.01 ERA.
There was a question of whether or not Musgrove would make Sunday's start on normal rest after going seven innings for just the second time this season on Tuesday.
"He feels great. Every time the last three or four times out, he's felt better and better," Padres manager Bob Melvin said. "Seven innings the last time out, still only 100 pitches. And he was motivated to take Sunday's start on a regular turn, but it's not something he hasn't done before.
Musgrove is 1-5 with a 5.83 ERA in six career appearances (five starts) against the Mets
--Field Level Media