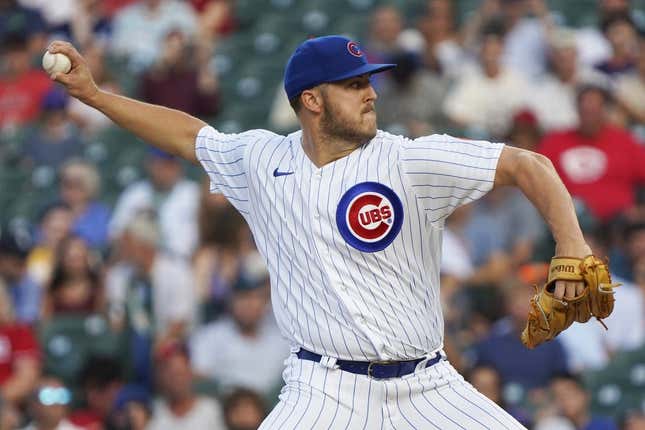 A season that began with World Series aspirations turned into a nightmare long ago for the New York Mets
Is Texas or Florida State a bigger national title contender? | Agree to Disagree
But Pete Alonso and Francisco Lindor -- parts of the Mets' core left untouched by a trade deadline teardown -- continue to produce for one of baseball's most disappointing teams
Alonso, Lindor and the Mets will look to earn a rare series win Tuesday night when New York hosts the Chicago Cubs in the middle game of a three-game set
Carlos Carrasco (3-6, 6.60 ERA) is slated to start for the Mets against Jameson Taillon (6-6, 5.36) in a battle of right-handers
The Mets snapped a six-game losing streak Monday night when Alonso matched career highs with two homers and six RBIs in an 11-2 victory
Alonso and Lindor each finished 3-for-4 for the Mets, whose 11 runs were their most since July 18 and just three runs shy of their total output during an 0-6 road trip in which New York was swept by the Kansas City Royals and Baltimore Orioles
Alonso's big game earned him a unique place in baseball history. The 28-year-old had two homers and five RBIs against the New York Yankees on July 25 and against the Washington Nationals on July 28. He's the first player ever to collect at least two homers and five RBIs three times in a two-week span
Lindor is hitting .396 (19-of-48) with three homers and seven RBIs over the last 13 games for the Mets, who are 7 1/2 games out of the final National League wild-card spot
"He and Lindor and (Brandon) Nimmo, they just post up," said Mets manager Buck Showalter, referring to New York's leadoff hitter, who has missed just five games this season. "I'm so proud of the way, through thick and then -- their consistent approach to everything. It's hard
"Just remarkable for me to watch them perform with the expectations that are on them every time they go out there.
The loss Monday served as a reminder for how expectations have been raised over the last few weeks for the Cubs, who are 16-8 record since the All-Star break
Chicago, which was 6 1/2 games out of the final NL wild-card spot at the All-Star break, began Monday tied for the third slot before falling behind the Cincinnati Reds by virtue of the latter's win over the Miami Marlins
The Cubs were held to fewer than five runs Monday for just the sixth time in the second half. They have scored at least 10 runs six times in that span
"It's a hard game," Cubs manager David Ross told MLB.com. "Hitting is hard. Pitching is hard. Consistency is hard in our game. And so I think the true identity of professionals and winning organizations -- or winning teams -- is just knowing you have talent and knowing you just stay the course.
Carrasco took the loss last Thursday, when he gave up six runs over six innings as the Mets fell to the Royals 9-2. He is 2-1 with a 2.74 ERA in four career starts against the Cubs
Taillon earned the win on Thursday, when he allowed two runs over five innings in the Cubs' 5-3 victory over the Reds. He is 2-0 with a 2.25 ERA in three career starts against the Mets
--Field Level Medi