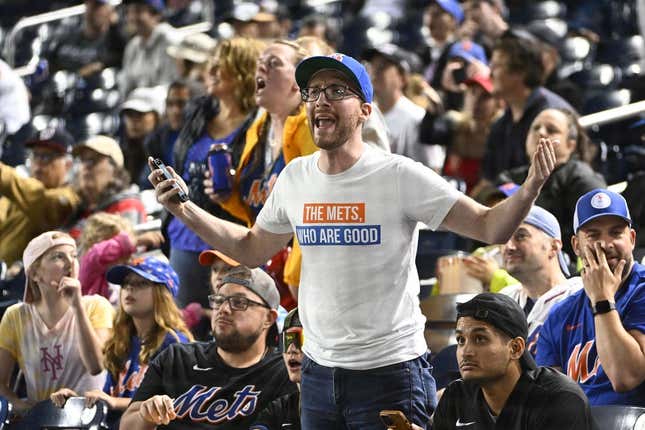 The New York Mets and Washington Nationals will look to see who can best use frustration to their advantage when the teams play two games on Sunday in the nation's capital
'Soccer fandom is full of gatekeepers' says Ted Lasso actor Brendan Hunt
This comes after a long day at the ballpark Saturday resulted in barely more than two innings completed between the National League East rivals.
It will be a split-admission doubleheader, beginning with the completion of Saturday's suspended game. The Nationals lead 1-0 with one out in the top of the third inning
A delay of almost four hours ensued before the game was suspended.
"We wanted to make sure we got it right. We wanted to give them a chance to try to get the field ready," Nationals manager Dave Martinez said. "We just didn't feel like it was safe for the players. And I thought we were all in agreement at that point, and that was it.
The rain started right before the first pitch and then conditions steadily worsened.
"The field was getting really bad," Martinez said. "The umpires made the right call by pulling everybody off the field."
Mets manager Buck Showalter said he agreed with the decision to finish the game on Sunday
"We wanted to play," Showalter said. "Obviously, nobody wants to play a split doubleheader."
The pitching situations could be in disarray, however. The teams also meet in the finale of the four-game series Monday afternoon.
It's unclear who'll go to the mound for both teams when the first game resumes.
"We got one, we just don't know who it is yet," Showalter said.
The Mets have won just four of their past 13 games
Right-hander Max Scherzer (2-2, 5.56 ERA) is slated to get the start in the nightcap for New York, Showalter said.
Scherzer skipped a turn in the rotation since his worst outing of the season, so he'll be on extra rest. He gave up six runs on eight hits -- including two homers -- in 3 1/3 innings on May 3 at Detroit.
Neck spasms caused the gap in Scherzer's outings, but a pregame bullpen throwing session Friday resulted in a positive review.
"Feel like I'm turning the corner on this, getting through it," Scherzer said.
Generally, Scherzer said he has coped with any neck spasms, so this episode seemed different.
"I thought I was doing everything to prevent this," Scherzer said. "It can just come out of nowhere."
Nationals Park was the home field for Scherzer from 2015 until his midseason trade in 2021. He won 92 games for the Nationals
Against Washington, he's 3-0 with 4.02 ERA in six games, including five starts.
Nationals right-hander Jake Irvin (1-0, 0.84) will oppose Scherzer in the nightcap. Irvin's start Sunday will be his third big-league game, but his last one was a beauty on Monday when he scattered four hits over 6 1/3 shutout innings at San Francisco for his first victory
So far, it has been a thrill for Irvin since he was summoned from Rochester.
"Having a blast," he said.
The effort in San Francisco marked the longest outing in his professional career -- at any level. Perhaps it helped that he had a five-run cushion after the top of the first inning.
"It makes it a very easy task for me to go out there and do what I did when they did what they did in the first inning," Irvin said, complimenting his teammates and hoping for an encore.
The Nationals will add pitcher Joan Adon from Triple-A Rochester for the second game
"I think we'll be in pretty good shape," Martinez said. "We get a 27th man for the second game, so that will definitely help."
--Field Level Media