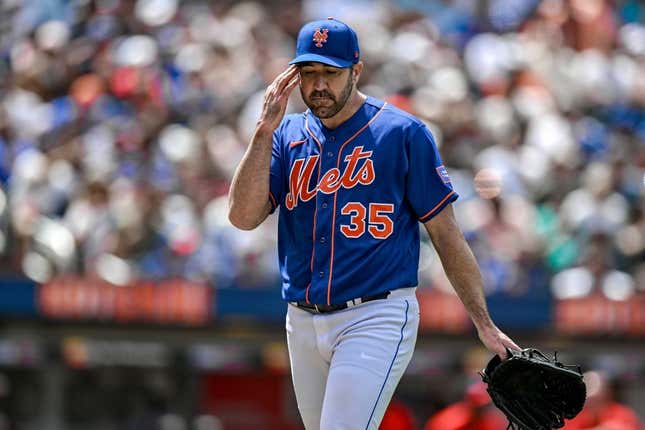 Three-time Cy Young Award winner Justin Verlander was traded back to the Houston Astros for two top prospects after 16 starts with the New York Mets
Is Texas or Florida State a bigger national title contender? | Agree to Disagree
In return, the Mets received outfielders Drew Gilbert and Ryan Clifford. Gilbert was the No. 1-rated prospect in the Astros' organization, according to MLB Pipeline, and Clifford was No. 4
Verlander spent 5 1/2 seasons with the Astros, missing 2021 due to Tommy John surgery, before departing as a free agent and signing a two-year, $86.7 million with the Mets. Part of MLB's extended approval process of the agreement Tuesday involved the Mets planning to pick up as much as $52.5 million should Verlander's option for 2025 be vested, according to multiple reports
Verlander, 40, was 6-5 with a 3.15 ERA this season with the Mets, who agreed to pay $35 million of the $58 million remaining on his contract before the option year
Several of Verlander's teammates from his previous stint with the Astros said Tuesday that they received text messages and other correspondence from the ace, who is expected to be with the Astros by the end of the week
"He means a lot to this clubhouse," Astros catcher Martin Maldonado said of his communication with Verlander over the past two days. "We know what kind of player he is, what kind of pitcher he is. What kind of teammate he is
"I know how much he wanted to come back here. ... The more I talked to him the more I realized it was getting closer and closer.
After the Mets traded pitcher Max Scherzer to the Texas Rangers over the weekend, Verlander recorded his 250th career victory on Sunday, then stated that he was open to a trade
"I think it largely depends on how the organization views next year," said Verlander, a nine-time All-Star Game selection. "I think Max is a tough sign for trying to go back at it. So, I'm committed to trying to win a championship here, but if the organization decides that that's not exactly the direction that they think is a best fit for next year and go for it again next year then yeah, I would be more open to it.
Verlander is 250-138 with a 3.24 ERA in 498 career starts with the Detroit Tigers (2005-17), Astros (2017-22) and Mets
Verlander was American League MVP and Cy Young winner in 2011 for the Tigers. He won Cy Youngs in 2019 and 2022 with Houston
The Mets set a major league record with a $355 million payroll for this season but have traded away three veteran pitchers in front of the deadline, beginning with reliever David Robertson to the Miami Marlins
New York got a prized prospect in the Scherzer deal in minor league infielder Luisangel Acuna, the younger brother of Atlanta Braves star Ronald Acuna Jr
Gilbert, 22, was a first-round pick (28th overall) by the Astros in 2022
Gilbert is batting .274 with 12 homers and 38 RBIs in 81 games this season between High-A Asheville and Double-A Corpus Christi
Clifford, 20, is batting .291 with 18 homers and 61 RBIs in 83 games at two Class-A stops this season
Clifford was an 11th round pick in 2022
--Field Level Medi