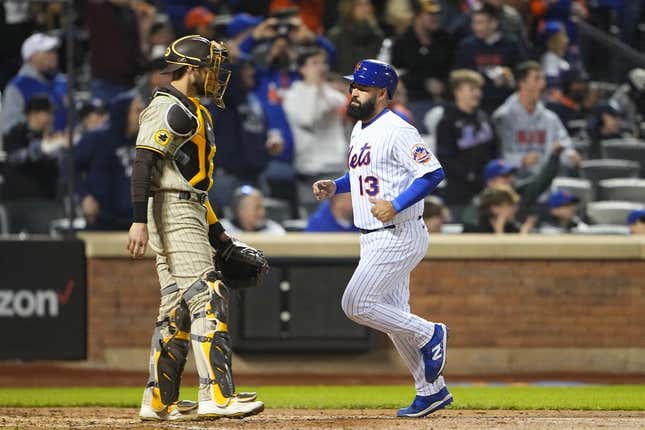 The 11th game of the season doesn't have the intensity of an elimination game in a playoff series.
Are the Oakland A's a failed state? | Agree to Disagree
But the New York Mets still were glad to beat the San Diego Padres on Monday night
The Mets will look to clinch a series win Tuesday night when they host the Padres in the middle game of a three-game set
David Peterson (0-1, 6.00 ERA) is scheduled to start for the Mets against Ryan Weathers (0-0, 3.60 ERA) in a battle of left-handers
Max Scherzer grinded through five innings and combined with four relievers on a two-hitter for the Mets on Monday night, when Jeff McNeil and Francisco Lindor each had a two-run double in a 5-0 win
The game was the first between the Mets and Padres since last Oct. 9, when Joe Musgrove and a pair of relievers combined on a one-hit shutout as San Diego eliminated New York with a 6-0 win in Game 3 of a National League wild-card series
The decisive win by the Padres symbolized the success they enjoyed last season against the Mets. Counting the wild-card series, San Diego went 6-3 against New York, outscoring the Mets 52-31
Despite the lopsided margin of victory Monday, New York didn't have an easy time against the Padres, who worked six walks and fouled off 32 pitches, including 25 against Scherzer
The Mets didn't put the game away until the seventh, when they scored three runs on four hits, two of which traveled about 150 feet combined up the third-base line. Luis Guillorme's bunt single and Tomas Nido's squibber bookended a sacrifice fly by Eduardo Escobar. Lindor delivered his run-scoring double with two outs
"I think we struggled in both series against them last year and in the playoffs, so it's nice to play well against them," McNeil said. "They're a really good team. We'll probably run into them again -- maybe in the postseason, we'll see. But they're a good team. It's nice to get that win."
The loss was the first shutout defeat of the season for the Padres, who entered Monday tied for second in the National League with 50 runs scored and fresh off taking three of four from the Atlanta Braves, whom they outscored 25-14
But San Diego was 0-for-13 with runners on base Monday night. The six walks the Padres drew were their most in more than 12 years
"Recently we've been pretty good about that -- put some pressure on the pitcher (and) either draw some walks (or) string some hits together and get some big hits," Padres manager Bob Melvin said. "We just couldn't do it tonight.
Peterson didn't factor into the decision in his most recent start last Wednesday, when he gave up five runs over four innings as the Mets fell to the Milwaukee Brewers 7-6. Weathers hasn't pitched since his season debut April 3, when he allowed two runs over five innings in the Padres' 5-4 win over the Arizona Diamondbacks
Peterson gave up one run in one inning of relief in his lone regular-season appearance against the Padres last July 24. He also surrendered one run over two innings in two relief outings in the wild-card series
Weathers has never opposed the Mets. His father, relief pitcher David Weathers, pitched for New York from 2002-04
--Field Level Media