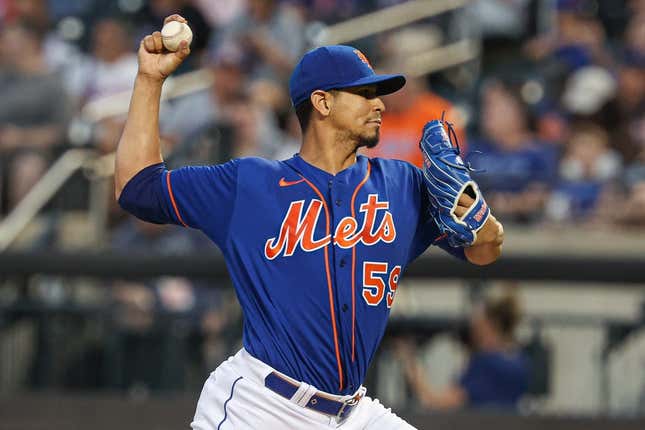 Both the New York Mets and Pittsburgh Pirates harbored high hopes when the season began
How running an NFL team is like running a restaurant | Chef Emeril Lagasse
But both teams will just try to avoid falling into last place in their divisions Monday night when the Mets host the Pirates in the opener of a three-game set
Carlos Carrasco (3-6, 6.42 ERA) is expected to start for the Mets against fellow right-hander Quinn Priester (2-1, 8.75)
The Mets salvaged the finale of a four-game series against the visiting Atlanta Braves on Sunday night when Kodai Senga tossed six solid innings and recorded the win in New York's 7-6 victory. The host Pirates split a doubleheader with the Cincinnati Reds, earning a 4-2 win in the opener before suffering a 6-5, 10-inning loss in the nightcap
The win over the Braves -- who won 7-0 on Friday night before outscoring the Mets 27-3 in a doubleheader sweep Saturday -- served as a reminder of how quickly New York has fallen behind Atlanta in the race for supremacy in the National League East
The Mets and Braves were each 101-61 last season, when Atlanta was awarded the division title by virtue of a 9-8 win in the season series. New York began 2023 with a payroll of more than $350 million but has been under .500 every day since June 6 and needed to win Sunday night to avoid tumbling behind the Washington Nationals and into last place in the division
"We won 101 games last year, they won 101, we just lost one more game (head-to-head) than they did," Mets manager Buck Showalter said. "So our guys talk about it. It's not a lesson, but it's a reminder of how quickly things can change, negatively and positively.
The Pirates have the same record (53-65) as the Mets and are a game ahead of the last-place St. Louis Cardinals in the NL Central
Pittsburgh, which has four straight losing seasons and has finished with a winning record just once since its most recent playoff appearance in 2015, emerged as a potential Cinderella when it ended April by winning 11 of 13 games to improve to 20-9
But the Pirates went 8-18 in May and fell out of first place for good on June 16 -- the last day Pittsburgh was at .500
The doubleheader split Sunday symbolized the near-miss nature of the Pirates' season. After overcoming a two-run deficit in the opener, Pittsburgh squandered a 5-3 eighth-inning lead in the second game
"We had the opportunity to win the game," Pirates manager Derek Shelton said. "If we execute, we do win the game.
Carrasco didn't factor into the decision on Tuesday, when he allowed two runs over five innings in the Mets' 3-2 loss to the Chicago Cubs. He is 2-1 with a 2.96 ERA in five career starts against the Pirates
Priester didn't factor into the decision on Wednesday after giving up four runs over four innings as the Pirates fell to the Braves 6-5. The rookie has never opposed the Mets
--Field Level Medi