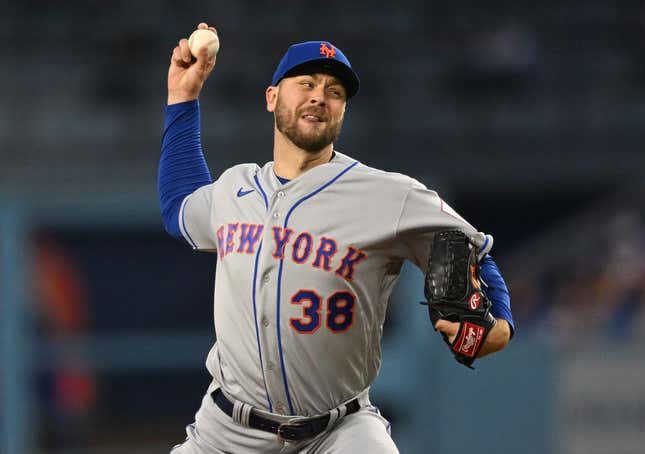 The New York Mets missed a chance on Saturday and Sunday to turn a very good West Coast road trip into a historic one
Bass' ERA stinks, but not compared to who he is off the mound | Worst of the Week Countdown
But they will still take the field Tuesday in a sturdy position despite a spate of injuries and a challenging early-season schedule.
The Mets will begin a long-awaited homestand when they host the Washington Nationals in the opener of a three-game series between the longtime division rivals
The Mets have yet to announce a starter for Tuesday and may utilize a bullpen game. Right-hander Josiah Gray (0-4, 3.74 ERA) is slated to start for the Nationals
Both teams were off Monday after road defeats Sunday, when the Mets fell to the San Francisco Giants 5-4 and the Nationals lost to the Minnesota Twins 3-1
With consecutive losses to the Giants, the Mets finished their season-long 10-game road trip at 7-3. New York swept the Oakland Athletics in a three-game set and took two of three from the Los Angeles Dodgers before winning the first two games against San Francisco, finishing one victory shy of tying the franchise record for most wins on a California road trip. The 1986 club went 8-1 against the Dodgers, Giants and San Diego Padres
"I don't think anybody after a loss says, well, let's do the math of it," Mets manager Buck Showalter said. "A disappointing way to end it. But guys have been on the road for 17 out of the 23 games. It'll be good to get in their own beds.
The Mets are 10-7 on the road and 14-9 overall despite an injury-riddled and inefficient starting rotation
Three-time Cy Young Award winner Justin Verlander has yet to debut for New York due to a right shoulder injury. Max Scherzer is serving a 10-game suspension for using an illegal foreign substance against the Dodgers last Wednesday, and Carlos Carrasco went 0-2 with an 8.56 ERA in three starts before going on the injured list with inflammation and a bone spur in his right elbow.
"We played good baseball," Mets right-hander Tylor Megill said after he gave up four runs over a season-low four innings Sunday night. "It's hard to play on the road and we were out here for a while.
Seven pitchers have already made at least one start for the Mets, whose rotation has posted a 4.94 ERA. The only starter to last beyond the sixth inning is Joey Lucchesi, who returned from Tommy John surgery last Friday and tossed seven scoreless innings to earn the win in a 7-0 victory over the Giants
The road has been a friendly place so far this season for the Nationals, who are 7-14 overall but have gone 5-5 while visiting the Colorado Rockies, Los Angeles Angels and Twins. Washington earned its first series win by taking the first two games in Minnesota
"(The Twins) have been playing well," Nationals manager Dave Martinez said of the American League Central leaders. "To win two out of three with a day off coming up (Monday), it feels good.
Gray took the loss in his most recent start April 18, when he allowed one run over five innings as the Nationals fell to the Baltimore Orioles 1-0. Washington has scored just one run combined across Gray's four starts this season
Gray is 0-2 with a 12.00 ERA in three career starts against the Mets
--Field Level Media