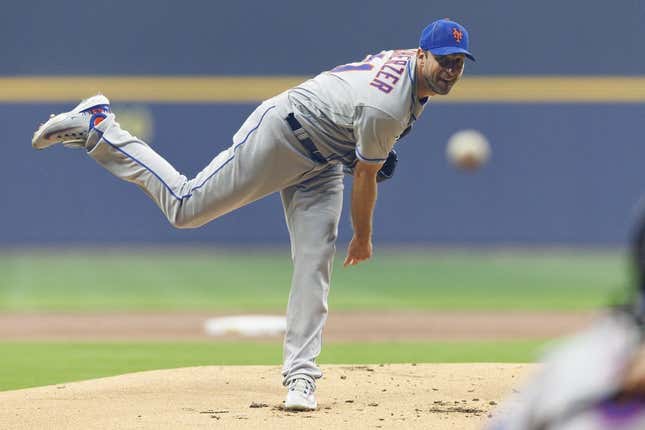 New York Mets right-hander Max Scherzer was ejected before the bottom of the fourth inning of Wednesday's game against the Los Angeles Dodgers after umpires examined his glove
Bass' ERA stinks, but not compared to who he is off the mound | Worst of the Week Countdown
It was the second glove examination in two innings for Scherzer, after umpires requested he change gloves before the bottom of the third inning. Crew chief Phil Cuzzi ejected Scherzer after discovering a second issue with the glove.
The Mets pivoted to right-hander Jimmy Yacabonis in the fourth inning and the Dodgers immediately took advantage, scoring the first run of the game on a one-out double from Jason Heyward, a single from Miguel Vargas and a sacrifice fly from David Peralta for a 1-0 lead
Scherzer gave up one hit over three scoreless innings, with two walks and three strikeouts over 47 pitches.
Scherzer was making his first appearance against the Dodgers after pitching for the team following the 2021 trade deadline
He went 7-0 with a 1.98 ERA in 11 regular-season starts with the Dodgers in 2021 but bowed out of a Game 6 start in the National League Championship Series against the Atlanta Braves citing arm fatigue. The Dodgers ended up losing the game and the series
Last year, Scherzer said the way the Dodgers used him down the stretch and into the playoffs led to his arm fatigue. He told the Los Angeles Times this week that he was injured, including a rotator cuff issue
--Field Level Media