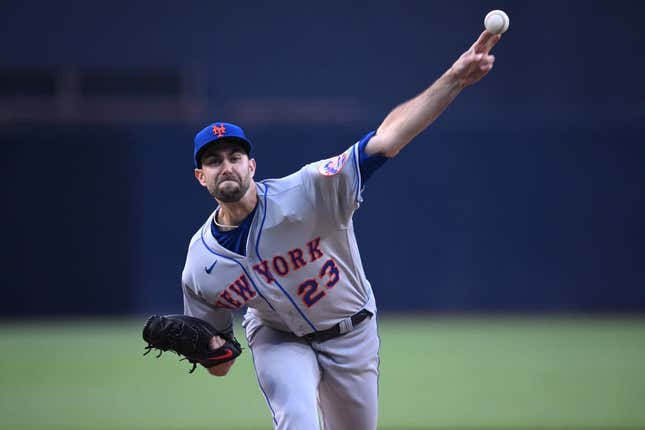 Despite coming off a three-game sweep to one of the worst teams in the majors, New York Mets manager Buck Showalter says motivation isn't a problem for his players
How running an NFL team is like running a restaurant | Chef Emeril Lagasse
That resilience will be put to the test further starting Friday when the Mets open a three-game set with the best team in the American League, the host Baltimore Orioles
New York has lost four of its last five games, including 9-2 on Thursday to get swept out of Kansas City
"Our guys are motivated," Showalter said after Thursday's game. "They have a lot of professional pride. I could rattle off four or five things that I was proud of today, but I know nobody wants to hear that when it's 9-2.
The Orioles, who lead the American League East, are starting a six-game homestand, and they have won four of their last five overall
"There's still a long way to go, but love the way we're playing," Orioles manager Brandon Hyde said. "We're playing winning teams well. It starts on the mound.
Baltimore has played 11 of its last 14 games on the road, so this figures to be a crucial stretch with series against the Mets and Houston Astros before heading to the West Coast for a three-city trip
The Orioles knocked off the host Toronto Blue Jays 6-1 on Thursday to take three of four in the series. Ryan Mountcastle and Austin Hays both had four-hit days
"You can't be hot from start to finish," Hays said. "You just keep working and stay focused on the right things.
While the Orioles are thinking about first place, the Mets have to approach things with a different mindset
"Win games and hopefully shock the world," shortstop Francisco Lindor said. "But most importantly, I want the younger players to learn and to understand how the game is played and to not back down from any challenges. ... Not just them, including myself. All of us got to be better.
Showalter acknowledges striving for balance in weighing game outcomes vs. providing younger players with needed experience
"You're always still trying to win a game, but yeah (upper management) has been very open and communicative about where we are," he said. "We've been juggling a lot, whether it's Brett (Baty) or Mark (Vientos) or Frankie Alvarez or whoever, even the young pitchers.
The Mets might have veteran outfielders Starling Marte and Brandon Nimmo back from injuries in this series
"I'm hoping (Marte is) a player tomorrow," Showalter said. "Same with Nim. There's a quick turnaround, so there's not going to be a whole lot of change. I'm not saying I'm expecting, but I'm hoping they're both players tomorrow.
The Mets' pitching rotation has been in disarray after Justin Verlander and Max Scherzer were shipped away at the trade deadline
Left-hander David Peterson (3-7, 5.92 ERA) gets the start in the opener, although he hasn't gone more than two innings in any of his last six appearances, when he was moved to the bullpen. In his 11 starts this season, he was 2-7 with a 6.46 ERA
Peterson has faced the Orioles twice in his career, once as a starter, and is 1-1 with a 5.40 ERA
The Orioles' starter will be right-hander Dean Kremer (10-4, 4.66). In his last start, Sunday night against the visiting New York Yankees, his team gave him a 7-0 lead in the first inning. But Kremer lasted only four innings, surrendering three runs on seven hits and two walks with seven strikeouts. He made 90 pitches
Baltimore is 16-6 in games Kremer has started, including 5-0 in July. He has never faced the Mets
--Field Level Medi