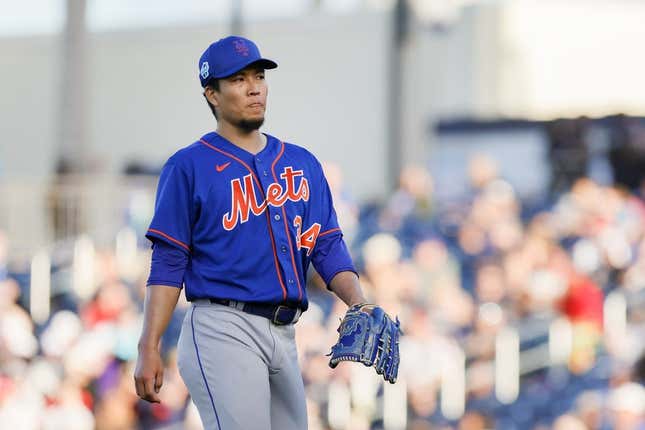 New York Mets right-hander Kodai Senga is set to make his major league debut on Sunday when he faces the Miami Marlins
Aaron Rodgers should go full Joe Namath | Comedian Bert Kreischer
The Mets have won two of the first three games in this weekend series in Miami
Senga, 30, spent 11 seasons playing pro ball in Japan, posting a 104-51 record, a 2.42 ERA and a 1.096 WHIP. He also averaged 10.0 strikeouts per nine innings by using a 95-to-99 mph fastball and a "ghost" forkball that has a wicked downward break.
In spring training, Senga wasn't dominant, however. The 6-foot-1, 200-pounder, who apparently lacks a quality third pitch, allowed six hits, five walks and four runs in nine innings. He also struck out 10 batters.
But on Monday, Senga pitched five scoreless innings in an intrasquad game, tossing 72 pitches.
"I had good control of my pitches," said Senga, who signed a five-year, $75 million deal with the Mets in the offseason. "It went pretty well.
Perhaps Senga just needed time to make adjustments to the different-sized baseball and the warmer weather in Florida. He also missed a spring-training start due to soreness on his right index finger.
Senga joked that he wanted to play somewhere with "less sun" than Miami, but Mets manager Buck Showalter said his starter has been cleared to throw as many as 90 pitches on Sunday
The Marlins, meanwhile, will counter with lefty Trevor Rogers, 25. The Marlins' first-round pick in 2017, Rogers is 12-21 with a 4.13 ERA in parts of three MLB seasons and 55 total starts
In six career starts against the Mets, Rogers is 2-1 with a 2.76 ERA. He hasn't been as good at home, going 5-11 with a 4.80 ERA in 24 starts
Rogers struggled against right-handed batters last year, allowing them to hit .299 with an .886 OPS. Lefty batters hit just .194 with a .584 OPS.
The Marlins are also likely concerned about Rogers' slippage from his All-Star 2021 season, when he went 7-8 with a 2.64 ERA. Last season, he went 4-11 with a 5.47 ERA
Rogers is counting on support from first baseman Garrett Cooper and second baseman Luis Arraez, among others.
Cooper, who joined the Marlins in 2018, is the longest-tenured player on the roster, and he said he appreciates Miami's new coaching staff, led by manager Skip Schumaker
"I've seen so many changes from (2018) to now," Cooper said. "We have a different mindset offensively."
So far, that mindset includes hitting more to the opposite field along with occasional power.
As far as the four homers the Marlins have hit in the season's first three games, Schumaker said the long ball is not what his staff emphasizes
"We preach competitive at-bats," he said. "It's obviously much easier to score when guys are hitting homers. But grinding out at-bats is what we want from everybody."
Arraez, the 2022 American League batting champion acquired in an offseason trade with the Minnesota Twins, exemplifies what the Marlins want out of their hitters
Arraez, who went 4-for-5 in Miami's 6-2 loss to the Mets on Saturday, is batting .583 in the first three games of the season. Cooper, who is hitting .385, also has embraced the Marlins' offensive motto
--Field Level Media