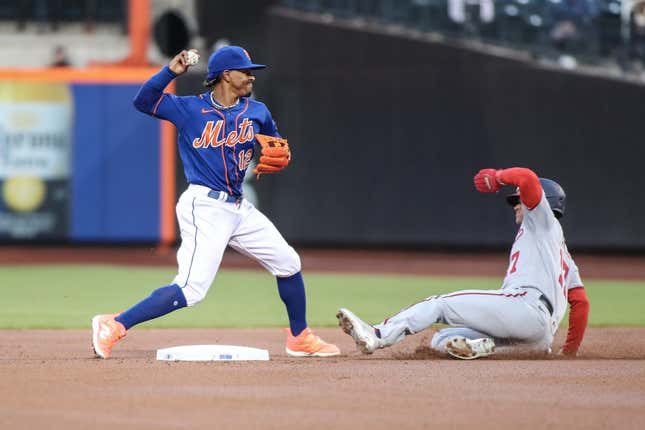 The offensive struggles of the New York Mets are getting most of the attention during the team's season-worst, four-game losing streak
Will South Beach Flu give the Heat home court advantage? | Keep it a Buck(et)
However, manager Buck Showalter is more concerned with the Mets' defense
The Mets will look to snap out of a slump on both sides of the ball Thursday night when they will attempt to salvage the finale of a three-game series against the visiting Washington Nationals
Left-hander Joey Lucchesi (1-0, 0.00 ERA) is slated to start for New York against right-hander Trevor Williams (1-1, 3.38).
Washington lefty MacKenzie Gore struck out 10 over six solid innings and combined with three relievers on a four-hitter Wednesday night as the Nationals earned a 4-1 win
The Mets set a season high in strikeouts for a second straight game on Wednesday, when they whiffed 15 times. They have fanned at least 10 times in each of the last three games after doing so just three times in their first 22 contests
Only a third-inning RBI single by Starling Marte kept New York from being shut out for a fifth time this season. The Mets were blanked just eight times last year, all after June 1
Yet Showalter focused more on the Mets' defensive woes on Wednesday. New York opened the season with nine straight error-free games, and they committed just four errors in its first 21 games. However, they have made six errors in the past four games, including three on Wednesday night
"I think that's the thing that's been disappointing for us, as it's something we've been really good at," Showalter said. "Last couple games have not been indicative of what one of our strengths are."
The Nationals have won four of their past five games while showing rapid signs of team-wide improvement. Starters have allowed no more than three runs in each of the past seven games for Washington, which went 55-107 last season while finishing next to last in the majors with a 5.00 ERA
The Nationals, whose 603 runs last season were the third fewest in the National League, also continued their patient approach Wednesday, when they drew a season-high seven walks and forced Mets pitchers to throw 183 pitches. Washington has coaxed at least four walks in each of the past four games after doing so six times in the first 19 games
"We've been working really hard on getting these guys to understand what balls they really hit well, getting the balls in the strike zone," Nationals manager Dave Martinez said. "We got to be patient, we got to take our walks, we got to put the ball in play.
Lucchesi won in his return from Tommy John surgery last Friday, when he struck out nine over seven scoreless innings as the Mets beat the host San Francisco Giants 7-0
He is 1-0 with a 4.19 ERA in four career starts against the Nationals
Williams didn't factor into the decision on Friday after allowing two runs over six innings in the Nationals' 3-2 road victory over the Minnesota Twins
Williams, who signed with Washington as a free agent in December after spending the previous year-plus with the Mets, is 3-1 with a 2.32 ERA in five starts against New York
--Field Level Media