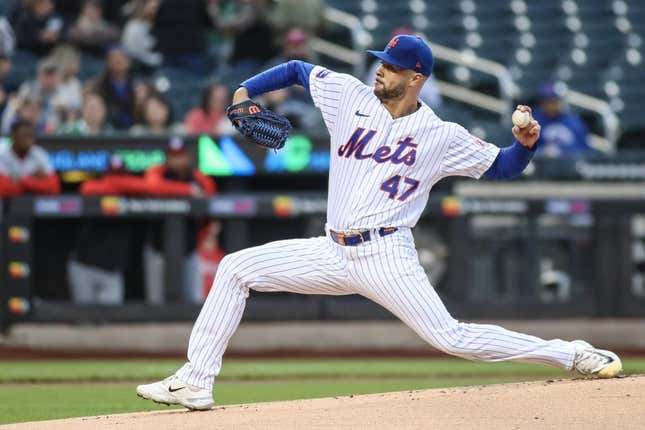 The New York Mets got two days off last weekend due to inclement weather. That led to a busier week and changes to their pitching plans
Air Jordans are more American than McDonald's French fries | Deon Cole's Ultimate Sports Fantasy
New York split a doubleheader at home against the Atlanta Braves on Monday. The Mets then headed to Detroit, where they will open a three-game series against the Tigers on Tuesday night
Mets manager Buck Showalter revamped his rotation due to the postponements and other factors. Max Scherzer is scheduled to make his first start on Wednesday after serving a 10-game suspension. Scherzer was sanctioned for violating rules regarding foreign substances on his pitching hand
Prized free agent signee Justin Verlander, who spent much of his career with the Tigers, is scheduled to make his Mets debut on Thursday in the series finale at Detroit
New York left-hander Joey Lucchesi (1-0, 2.19 ERA) will make his third start of the season in the series opener. Lucchesi blanked the San Francisco Giants for seven innings in his season debut on April 21, racking up nine strikeouts. He gave up three runs and five hits in 5 1/3 innings against the Washington Nationals on Thursday.
Lucchesi will be opposing Detroit for the first time in his career.
The Mets have lost six of their past eight games. They dropped the first game of the doubleheader against Atlanta 9-8 and won the nightcap 5-3
Pete Alonso hit his 11th homer, a three-run shot, in the opener. In the second game, Jeff McNeil had a solo homer and scored two runs while catcher Francisco Alvarez drove in two runs.
"I was more impressed with the job he did behind the plate," Showalter said of Alvarez.
New York plays its next 13 games against the Tigers, Colorado Rockies, Cincinnati Reds and Washington. Those teams aren't expected to be contenders, but Showalter said they can't be taken lightly
"At the end of the year, they might be the best teams in their divisions and we may not be. Who knows?" he said. "That's real dangerous, to think like that and to be playing this game mathematically. I wish it was that easy. It doesn't work that way."
Right-hander Michael Lorenzen (0-1, 7.07 ERA) is scheduled to start for Detroit on Tuesday. Lorenzen has started three games since signing with the Tigers as a free agent in the offseason. In his latest outing, on Wednesday, he gave up five runs and seven hits in five innings en route to a loss at Milwaukee
Lorenzen has made 12 appearances against the Mets, including two starts, going 1-1 with a 2.73 ERA
Detroit went 1-3 in a four-game home series against Baltimore before getting Monday off. The previous weekend, the Orioles swept three games against the visiting Tigers
Detroit lost its past two games by two runs apiece.
"Definitely a little frustrating, I'm not going to lie," outfielder Matt Vierling said, "but we're in almost every game we play. We are right there. At some point some balls are going to fall and other things will go our way. If anything, this shows a lot about our team. We're fighting. We're not giving in."
The American League Central has only one team over .500, which gives the Tigers hope of challenging for a playoff spot if they heat up
"The encouragement is that I think we're putting together better games," Detroit manager A.J. Hinch said. "I think we're playing better baseball and giving ourselves a chance."
--Field Level Media