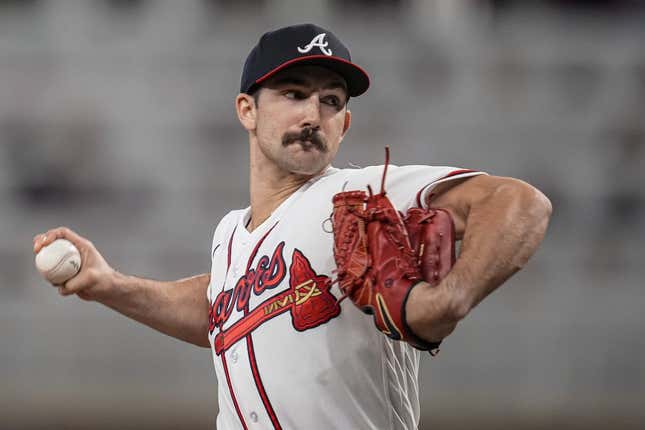 A rainout Saturday afternoon ensures the Atlanta Braves won't face Max Scherzer during their long weekend in New York against the Mets
But the Mets aren't going to be able to dodge Spencer Strider
Weather permitting, Strider will take the mound Sunday afternoon, when the visiting Braves will look to continue what has been reduced to a three-game series with the division rival Mets
Strider (3-0, 1.80 ERA), who was scheduled to start Saturday, will start Sunday. The Mets are expected to counter with fellow right-hander Tylor Megill (3-1, 3.96), who was also slated to pitch Saturday
Mother Nature began impacting the series Friday night, when the Braves posted a 4-0 win in a game called after an 88-minute rain delay following the fifth inning
With a steady rain falling and expected to last well into the evening hours, Saturday's game was postponed about four hours before first pitch. The game will be made up as part of a split-admission doubleheader on Aug. 12, the middle day of the Braves' final visit to New York
The forecast for Sunday is foreboding as well, but regardless of whether the game is played, Saturday's postponement means Scherzer can't return to the Mets for Monday's series finale. He is serving a 10-game suspension for using a foreign substance against the Los Angeles Dodgers on April 19
The 10th game of that suspension is now Monday, so the earliest Scherzer can return is Tuesday, when New York opens a three-game series in Detroit against the Tigers, one of Scherzer's former teams.
Before that, though, the slumping Mets are going to get their first glimpse this season at the red-hot Strider, who earned the win on Monday night by allowing just two hits and striking out 13 over eight innings as the Braves routed the Miami Marlins 11-0
Strider retired the first 18 batters before Jazz Chisholm Jr. reached on an error by first baseman Matt Olson to open the seventh. The 24-year-old didn't allow a hit until Jean Segura singled with one out in the eighth.
Strider has struck out at least nine batters in each of his last nine starts -- a franchise record and two shy of the big-league record held by Hall of Famer Nolan Ryan.
"It's very special," Braves manager Brian Snitker said Monday of Strider. "You don't see that talent come around, because it's different.
Megill will be looking to reverse a trend that's become commonplace over his three big-league seasons. The 27-year-old didn't factor into the decision on April 23, when he gave up four runs over four innings as the Mets fell to the San Francisco Giants 5-4
"Not great," Megill said. "I am just pretty disappointed with today's start."
Megill is 0-1 with a 7.00 ERA in his last two starts after going 3-0 with a 2.25 ERA in his first three starts.
Last season, Megill was 4-0 with a 1.93 ERA in five April starts -- including tossing the first five innings of a combined no-hitter on April 29, 2022. But he was 0-2 with a 9.78 ERA in 10 games (four starts) thereafter.
As a rookie in 2021, Megill was 1-0 with a 2.04 ERA in his first seven starts but 3-6 with a 6.13 ERA the remainder of the season.
Strider is 2-1 with a 4.30 ERA in five career games (three starts) against the Mets. Megill is 1-1 with a 3.86 ERA in six games (five starts) against the Braves
--Field Level Media