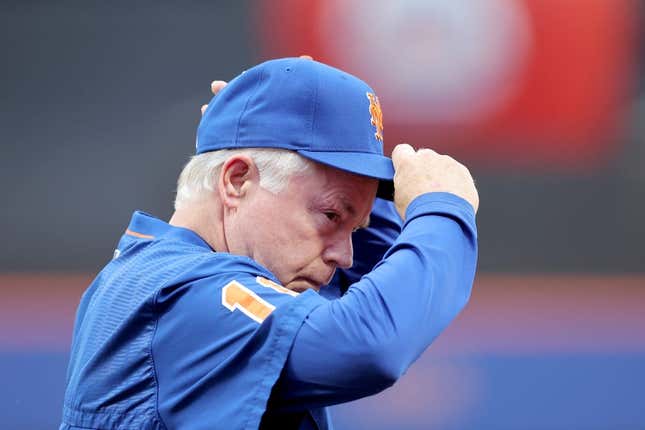 New York Mets owner Steve Cohen gave his struggling team a public pep talk tinged with a warning during a Wednesday afternoon press conference
How running an NFL team is like running a restaurant | Chef Emeril Lagasse
However, his words didn't have the desired effect as the Mets edged another step closer to a fate few could have envisioned in April
The Mets will look to salvage a split of a four-game series against the visiting Milwaukee Brewers on Thursday night in the final regular-season matchup between the teams
Max Scherzer (7-2, 3.95 ERA) is slated to start for the Mets against Adrian Houser (2-2, 4.02) in a battle of right-handers
The Mets' miserable June continued on Wednesday, when Blake Perkins laced a tiebreaking single in the sixth inning to help the Brewers to a 5-2 win
New York, which went 101-61 last season, has gone 7-17 this month to fall into 12th place in the National League. The Mets are 19th in the majors in OPS (.714) and 25th in ERA (4.59)
"If you asked me would I have expected us to be in this position at the beginning of the season, the answer is no," Cohen said at his news conference. "But here we are and hopefully we can right the ship. We have quality players. For some reason or another, they're not gelling. When we pitch well, we don't hit. When we hit, we don't pitch well.
"It's kind of weird -- I mean, it's actually very strange to me."
Cohen, a billionaire, said he wouldn't look to add to the Mets' record $355 million payroll if the team continued struggling between now and the Aug. 1 trade deadline
"If I'm in this position, I'm not adding, OK?" Cohen said. "I think that would be pretty silly. I would probably do very little."
The Brewers, who have been in first or second place in the NL Central every day since April 1, did just enough on Wednesday after being outscored 8-4 while splitting the first two games of the series
On Monday, Milwaukee left eight runners on base in five innings against Justin Verlander before Joey Wiemer hit a two-run homer in the sixth inning to lift the visitors to a 2-1 win. The Brewers stranded nine runners in a 7-2 loss on Tuesday, when they squandered a bases-loaded, one-out opportunity in the first before failing to score after putting two on with no outs in the fourth
Jesse Winker provided the Brewers some early relief -- and margin for error -- on Wednesday by hitting a two-run double in the first. Milwaukee stranded six runners over the next six innings, though Perkins delivered his tiebreaking hit in the sixth. Christian Yelich added a two-run single in the eighth
"Jesse's hit in the first inning -- we've put pressure on (the Mets) in both first innings of the game, not scored and then we come up with a big hit in the first inning to give us a lead," Brewers manager Craig Counsell said
Scherzer earned a win on Saturday when he allowed two runs over six innings as the Mets beat the Philadelphia Phillies 4-2. He is 3-4 with a 2.63 ERA in 12 career games (11 starts) against the Brewers. Scherzer lost at Milwaukee on April 4, when he yielded five runs on eight hits in 5 1/3 innings
Houser last pitched on Friday, when he tossed a scoreless inning of relief in a 7-1 win over the Cleveland Guardians. The right-hander hasn't started since June 9, when he gave up five runs over four-plus innings and took the loss as the Brewers fell 5-2 to the Oakland Athletics
He is 0-1 with a 2.84 ERA in four games (two starts) against the Mets, and he hasn't faced them this year
--Field Level Media