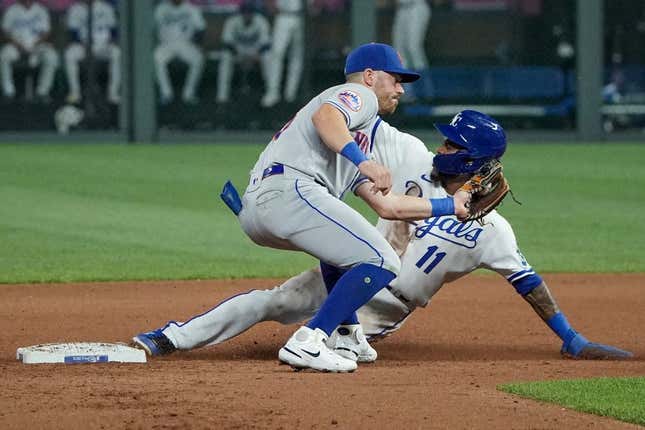 The New York Mets began Tuesday with Justin Verlander still on their roster, serving as a reminder of the expectations with which they began the season
Is Texas or Florida State a bigger national title contender? | Agree to Disagree
The Mets ended the night with rookie Josh Walker committing a "balk-off" -- a reminder of the season-long misfortune that has befallen one of the most disappointing teams in baseball
The Mets will look to bounce back from a frustrating defeat Wednesday night, when they are slated to visit the Kansas City Royals in the middle contest of a three-game series
Right-hander Kodai Senga (7-5, 3.17 ERA) is the scheduled starter for the Mets against Royals left-hander Cole Ragans (2-3, 5.22), who will be recalled from Triple-A Omaha prior to the game
A transformative Tuesday for the Mets ended when Walker committed a bases-loaded balk while trying to communicate with catcher Francisco Alvarez, which allowed M.J. Melendez to trot home with the winning run in the Royals' 7-6, 10-inning victory
"I didn't have a PitchCom in my ear," Walker said. "'Alvy' didn't have communication. Basically, I was trying to relay that to him. When I went to step off, my foot was kind of in the footprint of where guys had been throwing and my knee buckled a little bit before I stepped off.
The loss was as unusual as it was appropriate for the Mets, who entered this season with a payroll of more than $350 million -- the largest in baseball history -- but have been below .500 every day since June 6
New York, which is seven games out of the final wild card spot in the National League, restocked its farm system by trading six veterans since last Thursday, including a pair of three-time Cy Young Award winners in Verlander and Max Scherzer
"Clearly, the season didn't work out as planned," Mets general manager Billy Eppler said shortly before first pitch. "There was high expectations. Looked good on paper. But it didn't translate to consistent wins.
The quirky win continued the most consistent stretch of the season for the Royals, who have the second-worst record in baseball, ahead of only the Oakland Athletics
Kansas City's four-game winning streak is its longest since a four-game run from last Sept. 20-23. The Royals haven't won as many as five straight since a six-game streak from July 20-26, 2021
The Royals overcame a pair of late-inning deficits Tuesday. Melendez helped build the tying run in the eighth, when he walked, stole second, took third on Salvador Perez's groundout and scored on Freddy Fermin's sacrifice fly
Kansas City scored three times in the 10th to win
"To fight right back -- it's a team game, we won 2-1 the other day, the pitching was lockdown," Royals manager Matt Quatraro said, referring to Sunday's victory over the Minnesota Twins. "Today we needed some extra runs and we were able to do it.
Senga didn't factor into the decision on Thursday, when he gave up one run over six innings in the Mets' 2-1 victory over the Washington Nationals. He has never opposed the Royals
Ragans hasn't pitched in the majors since July 15, when he made his Royals debut and didn't factor into the decision after giving up one run over five innings as Kansas City fell to the Tampa Bay Rays, 4-2, in the second game of a doubleheader. He has never opposed the Mets
--Field Level Medi