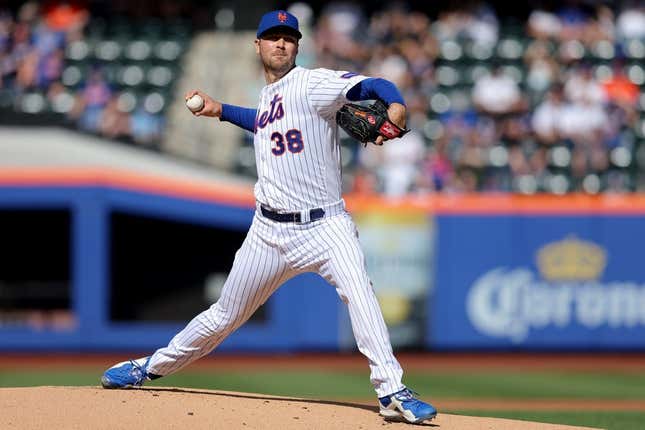 The New York Mets won't have long to savor their biggest win of the year -- nor will they have to wait long to find out if it can provide a much-needed spark
Air Jordans are more American than McDonald's French fries | Deon Cole's Ultimate Sports Fantasy
The Mets will look to earn their first series win in a month on Thursday afternoon, when New York is slated to host the Tampa Bay Rays in the finale of a three-game interleague set
Tylor Megill (4-2, 4.02 ERA) is scheduled to start for the Mets against fellow right-hander Taj Bradley (3-0, 3.52 ERA), a rookie who will be recalled from Triple-A Durham before the game
Pete Alonso hit a three-run, walk-off homer in the 10th inning Wednesday night to cap a dramatic set of comebacks that lifted the Mets to an 8-7 win
Alonso's fourth career walk-off homer was the third timely round-tripper of the evening for the Mets, who overcame deficits of 2-0, 5-2 and 7-5 to win for just the sixth time in 17 games this month
Mark Vientos, promoted from Triple-A Syracuse earlier in the day, tied the game 2-2 in the seventh by hitting a two-run blast.
The Mets, who haven't won a series since taking two of three from the Los Angeles Dodgers from April 17-19, were down to their last out in the ninth against Jason Adam when rookie Francisco Alvarez hit a three-run homer off the facade of the second deck in left-center field
After the Rays scored twice in the top of the 10th, Jeff McNeil led off the bottom half by singling against Pete Fairbanks. One out later, Alonso homered into the second deck in left field at 10:21 p.m. EDT
"It takes that (pressure) off for, what, about 12 or 14 hours?" Mets manager Buck Showalter said, referencing the teams' Thursday afternoon finale. "And then everybody goes and gets their four hours of sleep and comes back and does it again
"We'll see. We'll see. We're facing one of the best teams in baseball again tomorrow. It's like momentum's your next game -- if you can build on it, yeah. I'm just glad they get to feel good."
The late struggles by Adam and Fairbanks provided a disappointing end to what was shaping up to be another all-around impressive game by the Rays, who have the best record in baseball at 32-12
Josh Fleming exited with the lead after tossing five scoreless innings, Jose Siri hit his third homer in the past five games and Brandon Lowe snapped a 15-game homer drought with a tiebreaking, two-run shot in the eighth.
The Rays also went 7-for-7 stealing bases, their most thefts in a game since they stole seven against the Boston Red Sox on Sept. 16, 2011, and one steal shy of the franchise's single-game record
"Happy with the way we performed -- certainly, the offense," Rays manager Kevin Cash said. "But they kept coming back with some big home runs and ended it with the biggest home run.
Megill earned a win on Friday when he allowed two runs (one earned) over five innings as the visiting Mets beat the Washington Nationals 3-2
Bradley, who is taking the rotation spot of Drew Rasmussen (right flexor strain), hasn't pitched in the majors since April 24, when he won for the third time in as many starts. In that contest, he allowed three runs over five innings in the Rays' 8-3 victory over the visiting Houston Astros
Megill has never opposed the Rays, and Bradley has never faced the Mets
--Field Level Media