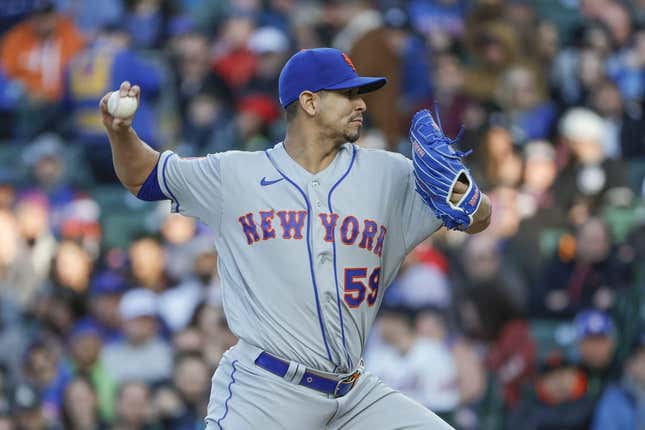 It's a little difficult to say which team has the momentum as the Pittsburgh Pirates and visiting New York Mets go into the deciding game of their three-game series Sunday
How running an NFL team is like running a restaurant | Chef Emeril Lagasse
The Mets won 5-1 on Saturday, limiting Pittsburgh to three hits, all singles. But the win didn't necessarily give New York much to brag about, seeing as how it ended a season-long seven-game losing streak
In addition, the Pirates gave the Mets a 14-7 bruising in the series opener, a game that was even more of a laugher before New York scored five times in the ninth
"It's definitely nice to put (the losing streak) to bed," said the Mets' Mark Canha, who had two doubles and three RBIs Saturday. "We still have a lot of work to do, and that's important to remember.
The Mets have made five errors this series. One of their three Saturday contributed to Pittsburgh's lone run
Pittsburgh manager Derek Shelton pointed not to any specific shortcoming from his club in dropping the middle game of the series. Instead, he credited the performance of Mets starter Kodai Senga and his specialty pitch
"The forkball is elite, and he had it (going well)," Shelton said of Senga, who allowed just two hits and one unearned run in seven innings.
One bit of drama surrounds Pittsburgh designated hitter Andrew McCutchen, who is chasing his 2,000th career hit with his team's homestand ending Sunday.
He reached 1,999 career hits on Friday but was 0-for-3 with a walk on Sunday.
Shelton, asked if McCutchen might be rested because of the day game Sunday, laughed.
"No, he'll be in the lineup," he said.
In the series finale, New York right-hander Carlos Carrasco (2-2, 5.94 ERA) is scheduled to oppose Pittsburgh right-hander Mitch Keller (7-2, 3.60 ERA).
Carrasco looked as if he might help the Mets end their losing streak at three in New York's game Tuesday at Atlanta when his teammates staked him to a 4-1 lead
But things blew up for him in the sixth, and he ended up giving up three runs without getting an out.
"We had two or three 0-2 situations where he didn't put some guys away," Mets manager Buck Showalter said. "He got away with it early and didn't in that inning.
"I can't fault Carlos. In a tough environment, I thought he gave us a quality start to give us a chance to win."
Carrasco is 2-0 with a 2.78 ERA in four career starts against the Pirates
Keller has emerged as the Pirates' ace, but he is coming off one of his toughest outings
On the heels of a four-game winning streak, he gave up five runs in 5 1/3 innings, with four walks and one strikeout Tuesday in a loss against Oakland.
"I just didn't execute," Keller said. "It just comes down to execution. I left too many pitches over the middle, and they took advantage."
Even given the winning streak, Keller is in a rough patch. He has given up 15 earned runs in 17 1/3 innings over his past three starts. At the beginning of that stretch, he had a 2.44 ERA.
Keller is 1-1 with a 2.25 ERA in two career starts against the Mets
--Field Level Media