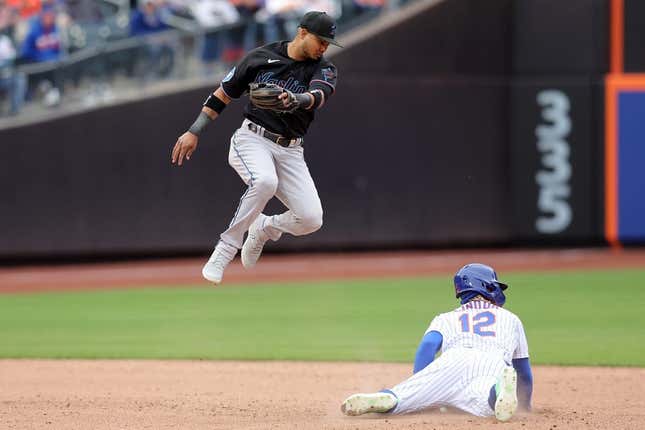 Tylor Megill tossed six scoreless innings Friday afternoon, when the host New York Mets took advantage of 12 walks by Miami Marlins pitchers to roll to a 9-3 victory in their home opener
Does Jimmy Butler have the best NBA Finals origin story? | Agree to Disagree
The Mets, who snapped a three-game losing streak, improved to 41-21 in home openers, including 11-4 since Citi Field opened in 2009
They beat the Marlins for the fourth time in five meetings already this season
Megill (2-0) allowed three hits and walked two while striking out three in his longest appearance since last Apr. 24. The 27-year-old right-hander, who is occupying the rotation spot of injured three-time Cy Young Award winner Justin Verlander, allowed just one runner beyond first base.
The Mets took a lead they wouldn't relinquish in the third without hitting the ball out of the infield, when Brandon Nimmo, Starling Marte and Francisco Lindor began the inning with walks against Edward Cabrera (0-1). After Pete Alonso and Jeff McNeil struck out, Mark Canha worked a walk to score Nimmo and chase Cabrera
Daniel Vogelbach then greeted Huascar Brazoban with the Mets' first hit, an infield single just to the right of first base, scoring Marte
Alonso had an RBI single in the fourth and Starling Marte homered in the sixth before the Mets scored twice without a base hit in the seventh, when Eduardo Escobar beat out the back end of a bases-loaded grounder and Tomas Nido lofted a sacrifice fly
Garrett Cooper hit a three-run homer off Dennis Santana in the top of the eighth for the Marlins, but Francisco Lindor (two-run shot) and Alonso hit back-to-back homers in the bottom half
The homer was the 150th of Alonso's career. He hit the milestone in 538 games, second-fastest of all-time. Ryan Howard reached 150 homers in 495 games.
Nimmo drew four walks for the Mets, whose 12 walks were the most by a big-league team this season
Cooper and Jean Segura had two hits apiece for the Marlins
Cabrera allowed two runs and walked seven while striking out four over 2 2/3 innings. He is the first Marlins pitcher to walk at least six without allowing a hit since A.J. Burnett walked nine in a no-hitter against the San Diego Padres on May 12, 2001
--Field Level Media