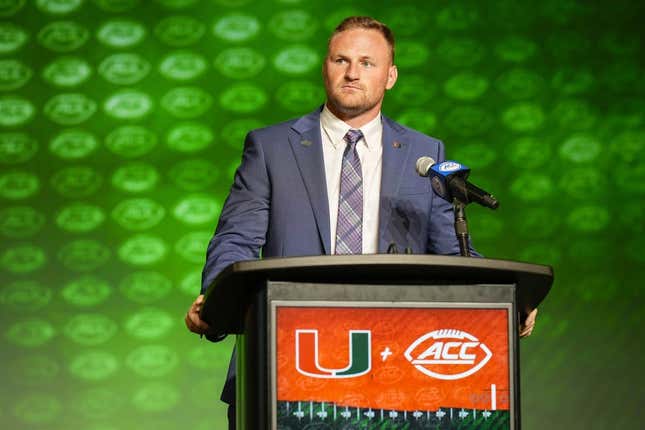 Miami quarterback Tyler Van Dyke was tempted to transfer out of the program, he said on Tuesday at ACC Media Days in Charlotte, N.C.
Is Texas or Florida State a bigger national title contender? | Agree to Disagree
But Van Dyke "couldn't do it," he said, instead explaining his allegiance to Miami coach Mario Cristobal.
After the Hurricanes finished Cristobal's first season 5-7, Van Dyke said five programs contacted him, trying to persuade him to enter the transfer portal
"There was a time, everything was so bad with how the season went, and I had no idea what was going on with the coaching staff, that I was considering (a transfer)," Van Dyke said. "But I couldn't do it. This is where I wanted to be the entire time."
Van Dyke, entering his third year as Miami's starting quarterback, conveyed his belief in Cristobal, who was hired ahead of the 2022 season after a successful run as head coach of Oregon.
"I've had immense trust in Coach Cristobal throughout this entire process," Van Dyke said. "The guys he's brought in to help our team. Just the coaches he brought in to help us as players. It's been great. This offseason, we've worked hard.
"(There are) a lot more guys in our leadership council, and a lot of the guys stepped up. Nobody wants to be 5-7. So it set a fire under us. And now, like I said before, we're just excited to get things going."
Van Dyke threw for 1,835 yards, 10 touchdowns and five interceptions in nine starts last season after earning 2021 ACC Rookie of the Year honors. He took over the starting job that year when D'Eriq King went down with an early-season injury and threw for 2,931 yards, 25 touchdowns and six picks in 10 games.
Van Dyke may not have transferred, but the Hurricanes lost almost two dozen players to the portal after the disappointing 2022 campaign. Cristobal also replaced both of his coordinators; he fired offensive coordinator Josh Gattis, while defensive coordinator Kevin Steele left for the same job at Alabama
Shannon Dawson will be Miami's new offensive coordinator and Lance Guidry is the new DC. Dawson was hired away from Houston.
"What Shannon has done in his history really fits Tyler, his skill set, the pieces around him," Cristobal said. "It gives him the opportunity to enhance a supporting cast."
As for the expectations for Cristobal's second year coaching his alma mater, the 52-year-old used the "r" word -- rebuilding.
"I think whenever you start up at a program again, and it has a rebuilding aspect, you have to sometimes go through a season like that and not make any excuse or sugarcoat it, but you go directly at the things that need to be addressed, and it starts with people," Cristobal said. "People in the locker room, people on the coaching staff, people in a support staff role.
"Now, we're eager to get to camp so we can put all of that to good use, and the bottom line is just to get to work. Not worry about anything or anyone and just get to work and put to good use this hard work that we have done."
--Field Level Media