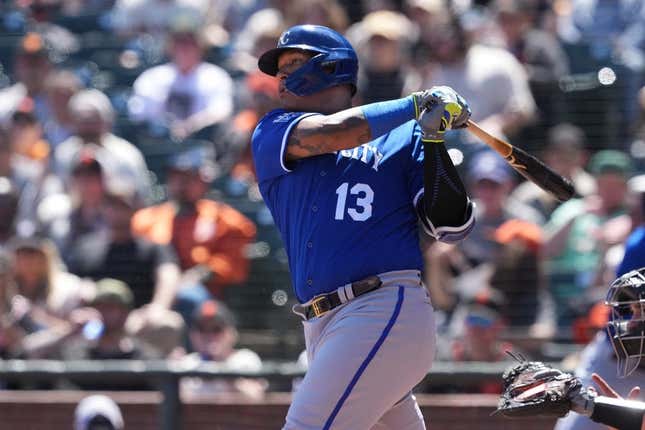 Michael Conforto crushed a two-run home run with two outs in the eighth inning on Sunday that rallied the host San Francisco Giants to a 3-1 win over the Kansas City Royals
'Soccer fandom is full of gatekeepers' says Ted Lasso actor Brendan Hunt
Trailing by a run with two outs in the eighth, the Giants pulled even on Wilmer Flores' RBI double, which scored Bryce Johnson, who singled. On a left-on-left pitching matchup, Conforto connected off Ryan Yarbrough (0-1)
Tyler Rogers closed out the ninth for his first save as the Giants salvaged the finale of the three-game series. John Brebbie (1-0) retired one batter in the eighth and picked up the win
Starting pitching was the story before Conforto's third homer of the season.
Giants right-hander Anthony DeSclafani made quick work of the Royals in 6 1/3 innings before he was lifted at the 88-pitch mark. The 32-year-old yielded just three hits and struck out seven without surrendering a walk
The lone run DeSclafani allowed came in the fourth on a two-out rally. Vinnie Pasquantino doubled and came home on Salvador Perez's RBI single.
In his first two starts, DeSclafani has allowed one run over 12 1/3 innings. On April 3 at the Chicago White Sox, the right-hander tossed six scoreless innings.
Kansas City threatened for a second run off DeSclafani in the seventh. Pasquantino led off with a single, then DeSclafani got Perez on a pop out to short.
With one out and one on, Scott Alexander relieved DeSclafani. Matt Duffy singled, but the Royals were unable to manufacture a run
Before San Francisco's rally, Royals starter Kris Bubic was in line for the win
The southpaw was brilliant over six scoreless innings, giving up two hits and striking out nine.
Bubic held the Giants without a hit until David Villar led off the fifth with a single to center
In relief in the seventh, Royals right-hander Carlos Hernandez issued a leadoff walk to Joc Pederson and retired two batters. But Hernandez landed awkwardly while delivering a pitch that resulted in Perez popping out. Yarbrough came on and struck out pinch-hitter Blake Sabol
--Field Level Media