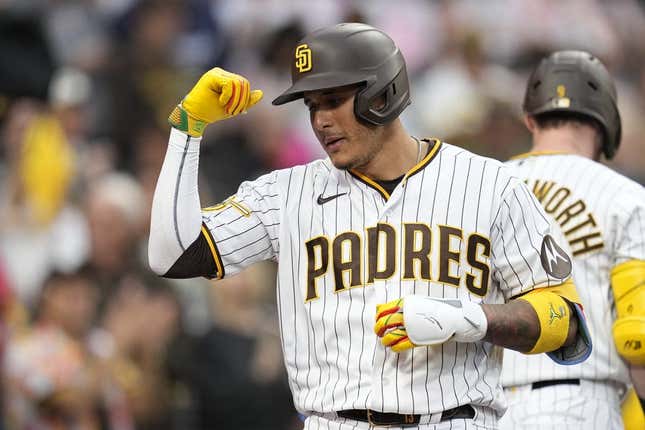 Michael Wacha allowed four hits over 6 2/3 shutout innings and Fernando Tatis Jr., Manny Machado, Juan Soto and Nelson Cruz hit solo homers Tuesday night as the San Diego Padres defeated the visiting Cleveland Guardians 5-0
Is Texas or Florida State a bigger national title contender? | Agree to Disagree
The win was the Padres' fifth in their last six games. The Guardians have lost three of the last four
Wacha gave up only two hits over the first six innings before Cleveland loaded the bases with two out in the seventh on singles by Jose Ramirez and Josh Bell and the only walk issued by Wacha, to Andres Gimenez. Reliever Steven Wilson came in and struck out Myles Straw to end the threat.
Wacha had five strikeouts in improving to 7-2. He benefitted from a series of excellent catches in the fifth and sixth by center fielder Trent Grisham and Tatis in right. Since May 1, Wacha is 5-1 with a 0.91 ERA and a 0.791 WHIP and a .148 opponents' batting average.
Tatis gave the Padres the only run they needed when he opened the bottom of the first inning with a home run off Aaron Civale. Tatis' 14th homer of the season -- and his second leading off a game -- came on a 3-and-1 pitch and traveled 364 feet to left-center
Tatis added two doubles, stole two bases and ran the Padres into the first of their two runs in the sixth
Machado made it 2-0 with his seventh homer of the season -- a 385-foot drive to left-center off Civale with one out in the third.
Tatis doubled with two out in the sixth, stole third and scored on a wild pitch by Cleveland reliever Sam Hentges. Soto followed with his 11th homer of the season on a high fly to left. Cruz, who returned from the injured list Tuesday, reached the upper deck in left-center on a 433-foot drive off Xzavion Curry in the bottom of the eighth.
Civale (2-2) gave up two runs on five hits and four walks with seven strikeouts in 3 2/3 innings.
--Field Level Media