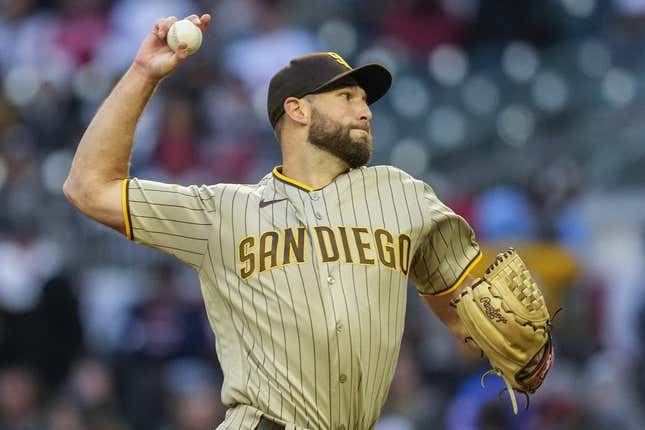 Right-hander Michael Wacha surrendered just two hits over six shutout innings while matching his career high of 10 strikeouts on Saturday night to lead the visiting San Diego Padres to a 4-1 win over the Atlanta Braves
Air Jordans are more American than McDonald's French fries | Deon Cole's Ultimate Sports Fantasy
Wacha also issued a walk in running his record to 2-0. Josh Hader rallied from a two-on, no-out jam with three straight strikeouts to pick up his second save in as many nights and his third of the season.
Juan Soto gave the Padres a 1-0 lead in the third with a solo homer to right off Braves starter Charlie Morton (1-1), who gave up three runs (two earned) on six hits with three walks and six strikeouts over five innings
The Padres then scored two runs thanks to a pair of Atlanta errors in the fourth -- and had a third taken off the scoreboard. The Padres scored their final run in the ninth on a wild pitch
Jake Cronenworth opened the fourth with a single off Morton, stole second with one out and moved to third on catcher Travis d'Arnaud's throwing error. Cronenworth then broke for the plate on Rougned Odor's sharp grounder to second and scored ahead of Ozzie Albies' throw to the plate. Ha-Seong Kim followed with a double inside the third base bag, moving Odor to third.
What followed was one of the stranger plays of the young season.
Trent Grisham hit a sharp grounder to Atlanta first baseman Matt Olson, who threw home in an attempt to keep Odor from scoring. But d'Arnaud could not handle Olson's throw, and the ball went to the backstop with Kim following Odor to the plate -- apparently making it 4-0.
But plate umpire Chad Fairchild never ruled Odor safe. The Braves appealed, d'Arnaud stepped on the plate with the ball and Odor was ruled out for failing to touch the plate -- reducing the score to 3-0
The Braves got a run back in the bottom of the eighth when Sam Hilliard's grounder up the middle off Luis Garcia hit the second base bag and rolled into shallow center for a double. Hilliard scored on Olson's third hit of the game
The Braves' rally ended when Padres third baseman Manny Machado made a diving stop of Austin Riley's sharp grounder and threw to second from his knees to get an inning-ending forceout
Odor opened the Padres ninth with a double off Danny Young, moved to third on a single by Grisham and scored on a wild pitch by Kirby Yates
--Field Level Media