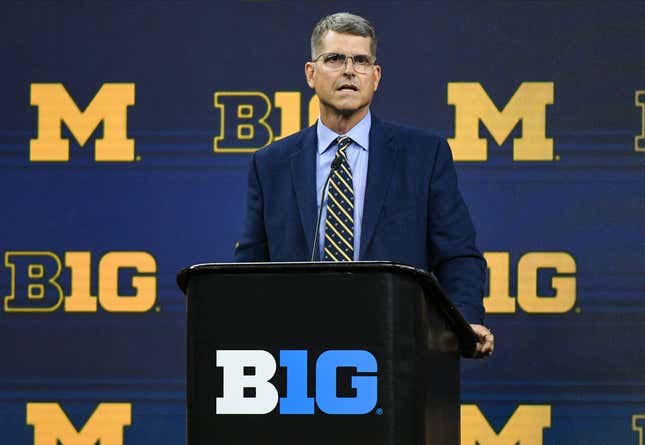 Michigan head coach Jim Harbaugh repeated a rallying cry for players to be paid as conference revenues climb with billion-dollar network agreements.
How running an NFL team is like running a restaurant | Chef Emeril Lagasse
Harbaugh championed publicly at Big Ten media days for players to be counted when profit discussions come up, as they have with the conference expanding to welcome USC, UCLA, Oregon and Washington in the past year. The Big Ten begins a new rights deal with FOX, NBC and CBS that is reportedly worth $7 billion over seven years.
"We all should be about diversity, equity and inclusion," Harbaugh said Monday in a monologue to open his press conference regarding preparation for the season opener Saturday.
"I'm calling for a system that is fair, equitable and benefits all involved. Don't exclude the student-athletes from the profits. My opinion, you can't say you're about diversity, equity and inclusion, if you aren't willing to include the student-athletes in revenue sharing.
"We have to try to make it work, we have to try to make it better and right now. The current status quo is unacceptable and won't survive. In my opinion, we capitalize on the talent, we should pay the talent for their contributions to the bottom line."
Harbaugh will serve a university-imposed three-game suspension to start the season while the NCAA continues to mull how to handle allegations of recruiting violations and asserts the Michigan coach intentionally misled investigators during the process.
He said his goal Monday was not to distract from his suspension or dismiss the Week 1 game with East Carolina, but to spark "constructive conversation" around the role players play in the financial windfall for college football.
"I want them to be treated with the respect and dignity that they deserve," Harbaugh said. "What I don't understand is how the NCAA, television networks, conferences, universities and coaches can continue to pull in millions, and in some cases billions, of dollars in revenue off the efforts of college student-athletes across the country without providing enough opportunity to share in the ever-increasing revenues."
—Field Level Media