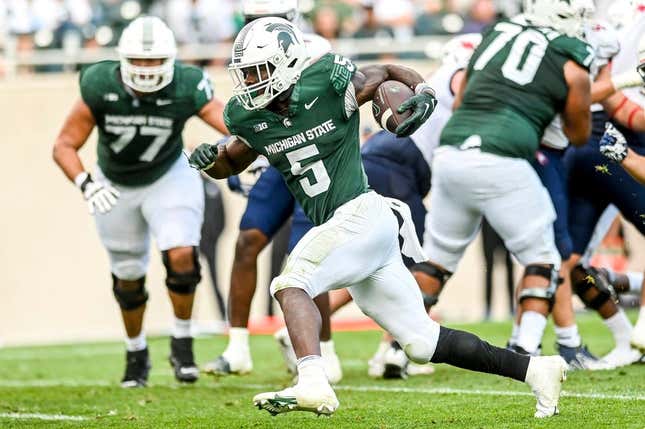 Nathan Carter scored three second-half rushing touchdowns, Noah Kim passed for three scores and host Michigan State cruised to a 45-14 win over Richmond at East Lansing, Mich., on Saturday afternoon.
How running an NFL team is like running a restaurant | Chef Emeril Lagasse
Carter gained 111 yards on 19 carries. Kim completed 18 of 22 passing attempts for 292 yards. Tre Mosley caught five passes for 84 yards and a touchdown for Michigan State (2-0).
Kyle Wickersham completed 16 of 22 passes for 102 yards for Richmond (0-2)
The Spartans led 17-0 at halftime.
A fumbled punt led to the Spartans' first touchdown. The Spartans recovered the ball at Richmond's 19-yard line. Five plays later, Kim connected with Mosley on an 11-yard scoring pass.
Michigan State had to drive 69 yards for its next touchdown. Kim completed a 31-yard pass to Jaron Glover to set up a 13-yard scoring strike to Tyneil Hopper early in the second quarter.
The Spartans' Jonathan Kim made a 52-yard field goal with 5:17 left in the half.
The Spiders came up empty on a 13-play drive later in the half as Andrew Lopez missed a 32-yard field goal attempt.
Michigan State increased its lead to 24-0 with a five-play, 65-yard drive early in the second half. The big play was a 29-yard pass from Kim to Glover. Carter scored from 2 yards out.
On the Spartans' next possession, Carter scampered 44 yards for his second touchdown of the day. It didn't take long for him to reach the end zone again. He scored from six yards out with 1:12 remaining in the quarter.
That capped off a nine-play, 70-yard drive and gave the Spartans a 38-0 lead.
Richmond got on the board when Spartans running back Jordon Simmons had the ball stripped away and Aaron Banks raced 45 yards for the touchdown during the opening minute of the fourth quarter.
Kim connected with Antonio Gates Jr. on a 45-yard touchdown pass during Michigan State's next possession.
Another Spartans turnover set up the Spiders' second score, a Jackson Hardy 5-yard pass to Sean Clarke.
—Field Level Media