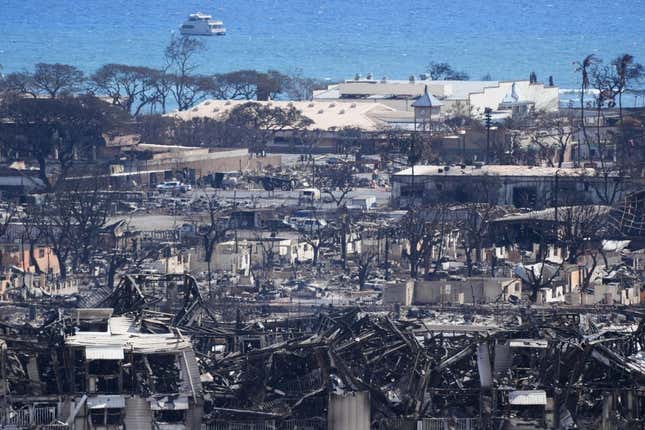 Michigan State and Tennessee will engage in a high-profile exhibition game on Oct. 29 to help raise money for relief efforts for Maui wildfire victims, both programs announced Wednesday.
How running an NFL team is like running a restaurant | Chef Emeril Lagasse
Saint Mary's and Hawaii also announced an exhibition for Oct. 20 in Honolulu.
The historic town of Lahaina, site of the popular Maui Invitational, was ravaged by a massive wildfire earlier this month and at least 115 people were killed and hundreds of others left homeless.
The Michigan State-Tennessee contest will be held at East Lansing, Mich.
"The Maui Invitational and the city of Lahaina have always held a special place in my heart," Spartans coach Tom Izzo said. "The images we've all seen and the stories we've heard following the wildfires have touched so many of us in the college basketball world, and I know that our thoughts and prayers are with all of those who have been affected.
"We've had plans to scrimmage (Volunteers coach Rick Barnes') team since last fall and we spoke about what we could do to help and honor the city of Lahaina and the people there who are in need. I'm hopeful that our Spartan family will pack the Breslin Center for what will be a great game, but will have an even greater mission, and that's to help the Lahaina community as much as we can."
Barnes expressed similar sentiments.
"First, I appreciate coach Izzo and Michigan State for hosting this game, which will benefit a community that means so much to the world of college basketball," Barnes said in a statement. "While we certainly need to continue to pray for the families in Maui who have been impacted, this benefit game will enable us to offer tangible support toward the restoration of Maui and its beautiful spirit."
Michigan State is scheduled to play in the 2024 Maui Invitational.
Saint Mary's coach Randy Bennett is close friends with Hawaii coach Eran Ganot, who used to be an assistant with the Gaels.
"It's always an excellent opportunity to take on a quality opponent like the University of Hawaii in exhibition play, but this adds an extra bonus for our team to help those in need," Bennett said. "The wildfires in Maui are a great tragedy and we are grateful for the opportunity to help those in need through this game."
Ganot said the continued support of Maui residents has been inspiring.
"It's hard to put into words how we are all feeling for Maui and its tremendous community," Ganot said. "The devastation of the nation's worst wildfire in more than 100 years has hit us all, near and far. Beyond our immediate thoughts and prayers, it has left us searching for ways we can help."
Earlier this month, Kansas and Illinois announced an exhibition game to benefit wildfire relief efforts. It will be held Oct. 29 in Champaign, Ill. It will mark the first time Jayhawks coach Bill Self has coached at Illinois since leaving the program after the 2002-03 season to become coach of Kansas.
It isn't yet known if the 2023 Maui Invitational will be held in Lahaina or moved to another location. The Lahaina Civic Center has been used as a shelter since the wildfire.
Officials said earlier this week that they hope to hold the tournament in Hawaii.
The Maui Invitational is scheduled for Nov. 20-22.
—Field Level Media