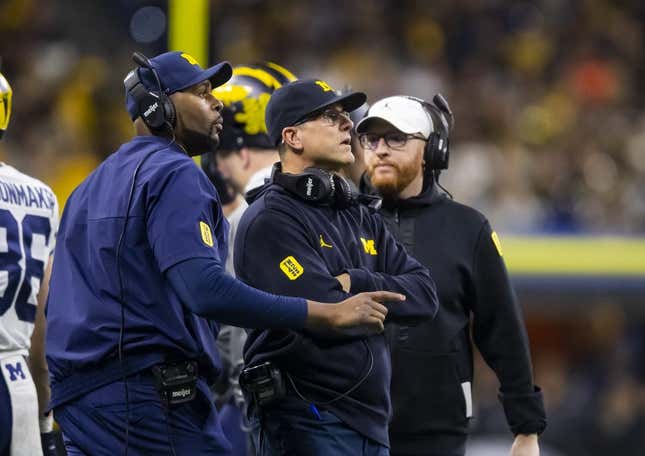 Michigan offensive coordinator Sherrone Moore will join head coach Jim Harbaugh in serving a suspension for the Wolverines' season opener as part of the university's self-imposed punishment.
Is Texas or Florida State a bigger national title contender? | Agree to Disagree
Harbaugh, as previously announced, will miss the first three games, penalized by Michigan for NCAA recruiting infractions.
Moore, also the offensive line coach, will miss the home game Saturday against East Carolina, with quarterbacks coach Kirk Campbell calling plays.
Both will be able to coach and participate in team activities during the week but won't be present at the game.
Michigan had announced on Aug. 24 the delegating of game-day duties with Harbaugh's absence on Saturday, on Sept. 9 against UNLV and Sept. 16 against Bowling Green.
Moore will be in charge for the Bowling Green contest. He also was to split the second half of the UNLV game with run game coordinator and running backs coach Mike Hart. Instead, Hart has sole duties for the second half, with the special teams coordinator, Jim Harbaugh's son Jay, in charge in the first half.
Defensive coordinator Jesse Minter is the game-day head coach this Saturday.
Jim Harbaugh had earlier designated his father, Jack Harbaugh, as assistant head coach and added associate head coach to strength and conditioning coach Ben Herbert's titles.
Michigan has tried to get ahead of NCAA-issued penalties after an NCAA investigation had concluded there were infractions in recruiting, coaching time and roles — Level II violations. The NCAA also alleges that Harbaugh misled its investigators — a Level I violation.
The governing body was in the process of suspending Harbaugh for a negotiated settlement of four games (all at home), but it was put on hold this summer after the NCAA's committee on infractions denied the proposal, according to reports.
The settlement had included one-game suspensions for Moore and tight ends coach Grant Newsome, who is not expected to receive a self-imposed punishment.
While Harbaugh denies he lied to investigators, claiming he didn't recall specific details, athletic director Warde Manuel said that Michigan levied the suspension "in an attempt to further" the NCAA investigative process.
Harbaugh is set to return for Michigan's Big Ten opener Sept. 23 against visiting Rutgers.
Moore is in his sixth season on the Michigan staff and first as the lone offensive coordinator. He was tight ends coach from 2018-20, offensive line coach since 2021 and co-offensive coordinator from 2021-22.
—Field Level Media