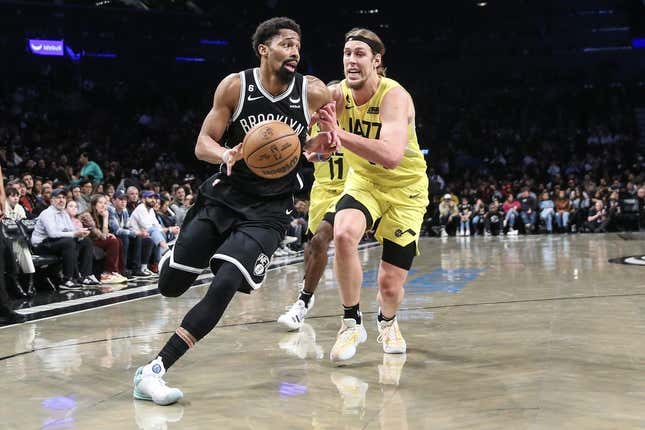 Mikal Bridges scored 30 points and the Brooklyn Nets survived a late scare from the visiting Utah Jazz for a 111-110 victory on Sunday afternoon
Air Jordans are more American than McDonald's French fries | Deon Cole's Ultimate Sports Fantasy
Cameron Johnson finished with 18 points, including a pair of free throws with 14 seconds remaining, and Spencer Dinwiddie totaled 17 points and 12 assists to help the Nets win their third straight
Talen Horton-Tucker sparked a huge Jazz comeback, scoring 32 points and dishing out eight assists, but Utah's rally from down 23 points in the fourth quarter came up just shy
Kelly Olynyk, who only scored seven points but hauled in 15 rebounds, missed a game-winning attempt at the buzzer. Lauri Markkanen returned to action, scoring 23 points with nine rebounds.
Brooklyn (43-35) won for the fourth time in five games and inched closer toward clinching one of the six secured playoff spots in the Eastern Conference with four games left.
Utah (36-42) lost for the sixth time in seven outings and stands two games out of a postseason position.
Brooklyn led comfortably, 103-84, with under six minutes remaining when things got crazy.
Utah went on a 15-0 tear over the next four minutes to get within 103-99 after a Horton-Tucker bucket with 1:41 remaining.
Dinwiddie ended Brooklyn's scoring drought, but the Jazz kept up the pressure. A Horton-Tucker layup with 46.8 remaining made it 106-103
After Bridges and Horton-Tucker exchanged layups, Johnson hit two free throws with 14,1 seconds left for a five-point Brooklyn lead.
Ochai Agbaji (19 points) drained a 3-pointer with 11.6 seconds to go to cut the lead to two. Utah got the ball back down three with 10.3 seconds left after Dinwiddie split a pair of foul shots.
Horton-Tucker made two free throws with 7.9 seconds remaining to make it a one-point game, and Seth Curry missed a pair from the charity stripe with 5.8 seconds left to give Utah one last chance.
Bridges scored 17 points in the pivotal third quarter when the Nets built a 19-point lead after the Jazz pulled within seven
The Nets took a 30-17 lead into the second quarter and went into the locker room up by double digits, 53-42
Bridges spearheaded a 9-0 streak to put the Nets up 74-55 in the third, and Brooklyn built its lead to 23 early in the fourth before the frenetic finish
--Field Level Media