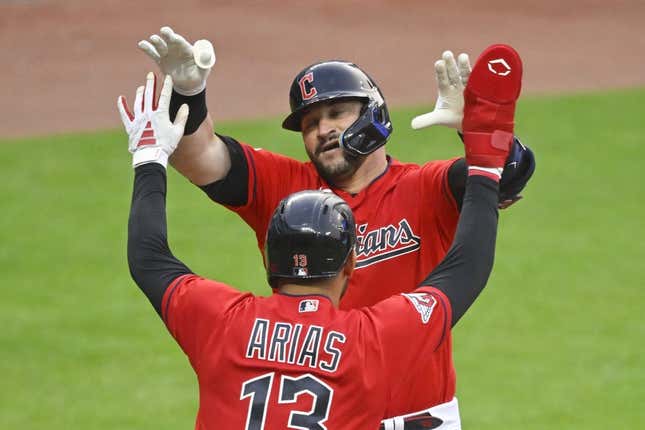 After snapping a lengthy slump with a timely home run, Cleveland Guardians catcher Mike Zunino can finally exhale
How running an NFL team is like running a restaurant | Chef Emeril Lagasse
Zunino and the Guardians continue their three-game series against the visiting Chicago White Sox on Tuesday following a 3-0 victory on Monday. Cleveland held a 1-0 lead before Zunino provided the final margin with a two-run homer in the seventh
The two-out blast was Zunino's third homer of the season and first since April 28. The 32-year-old hit a career-high 33 homers with the Tampa Bay Rays in 2021.
Zunino entered Monday's contest mired in a 1-for-29 slump with 21 strikeouts during that stretch. His 341-foot shot to right field helped Cleveland snap a three-game skid.
"I was so happy for him," Guardians manager Terry Francona said. "He shows up every day and he's been working like crazy, but he hasn't had a lot to show for it. ... It made me feel good when I saw the way that dugout reacted.
Cleveland will send left-hander Logan Allen (1-1, 3.04 ERA) to the mound on Tuesday. He received a no-decision after giving up one run over 5 2/3 innings against the White Sox on Thursday
Allen has made a strong impression since being promoted from Triple-A Columbus on April 23. The rookie has allowed a total of nine runs in 26 2/3 innings while recording a 3.63 strikeout-to-walk ratio.
Right-hander Dylan Cease (2-3, 4.78 ERA) will take the mound for Chicago. He allowed three runs over 6 1/3 innings in a 3-1 loss to the Guardians on Thursday
Cease is 0-3 in his last seven starts but was encouraged by his latest outing.
"I was doing a good job of pouring in strikes," Cease said. "I didn't necessarily have my sharpest stuff, but pounding the zone. Definitely more room to go, but definitely much better than my previous couple."
Steven Kwan is 5-for-13 against Cease, who is 4-4 with a 3.81 ERA in 10 career starts against Cleveland, including 2-3 with a 5.65 ERA in six outings at Progressive Field.
The White Sox were limited to three hits in their Monday loss, including a first-inning single by center fielder Luis Robert Jr
Robert is hitting .352 (25-for-71) with seven doubles, eight homers, 16 RBIs and 20 runs in 20 games this month.
"It's incredible," White Sox third baseman Jake Burger said. "You're just expecting him to hit a ball 110-plus (mph) over the fence, so it's really fun watching him, especially when he's really hot.
Cleveland is hoping to build some much-needed momentum after losing 11 of its past 17 games before the Monday victory.
Francona held a team meeting after the Guardians were swept by the New York Mets in three games over the weekend. The team responded with one of its cleanest performances of the season
"It was a wakeup call and he expects a lot out of us. We expect a lot out of ourselves," Guardians first baseman Josh Naylor said. "We trust each other as teammates and as brothers. We want to make the coaching staff proud, the Cleveland fans proud
"So we continue to work hard. If the ball falls our way, it falls our way. If it doesn't, that's unfortunate. We have to show up the next day and keep working."
--Field Level Media