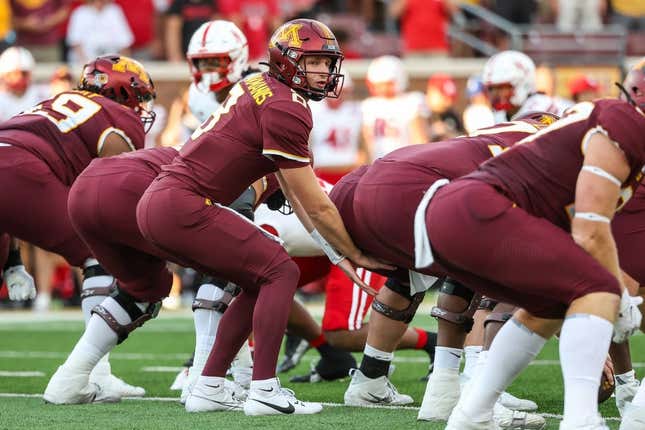 Minnesota will go for back-to-back wins to open the season when it hosts Eastern Michigan on Saturday night in Minneapolis.
How running an NFL team is like running a restaurant | Chef Emeril Lagasse
The Golden Gophers (1-0) are coming off a thrilling finish to their season debut. Minnesota rallied in the fourth quarter for a 13-10 win over Nebraska, which included a toe-tap touchdown from wideout Daniel Jackson with 2:32 remaining.
"That's a catch that goes on the wall forever," Minnesota head coach P.J. Fleck said. "That's a catch you'll never forget."
Now, Fleck hopes his team can use the highlight as a springboard to a successful season.
Gophers quarterback Athan Kaliakmanis had a surprisingly heavy workload in the opener, when he completed 24 of 44 passes for 196 yards, one touchdown and one pick. Running back Sean Tyler led the team with only 10 carries for 41 yards.
That runs counter to Minnesota's typical ground-and-pound approach, but Fleck said he wanted to be flexible this season in terms of calling plays.
That will give Eastern Michigan (1-0) something more to consider before it heads west for a nonconference showdown. The Eagles are coming off a 33-23 home win over Howard.
Quarterback Austin Smith completed 19 of 28 passes for 175 yards, one touchdown and one interception for Eastern Michigan in its season debut. Samson Evans had 16 carries for 52 yards and a touchdown out of the backfield.
Eastern Michigan head coach Chris Creighton is looking for his fifth win over a Power Five opponent since he took over the program. Creighton has overseen wins against Rutgers (2017), Purdue (2018), Illinois (2019) and Arizona State (2022).
Creighton said a tough challenge awaits his team.
"This opponent is really tough," he said. "They're big and strong and their athletes are really good, and they're well coached.
"It's one of the things I've always thought with Coach Fleck and his teams. People talk about the program part a lot, as they should, but I think sometimes people don't talk enough about how well coached they are on the field. I think they're really, really well coached."
—Field Level Media