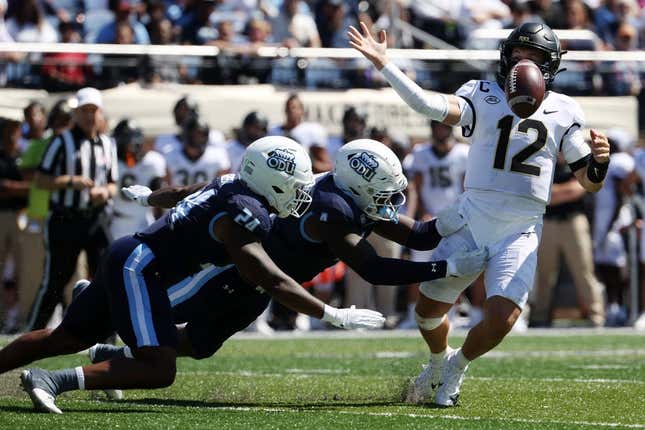 Mitch Griffis threw three touchdown passes and Wake Forest overcame a 17-point deficit to defeat host Old Dominion 27-24 on Saturday afternoon at Norfolk, Va.
Is Texas or Florida State a bigger national title contender? | Agree to Disagree
Wake Forest (3-0) seized its first lead of the game with 6:48 remaining on Griffis' 4-yard touchdown pass to Jahmal Banks. The touchdown pass came just two plays after the Demon Deacons recovered a fumble at the Old Dominion 6-yard line.
Griffis, who threw two touchdown passes to Taylor Morin, finished 24-for-41 for 312 yards with two interceptions.
LaMareon James scored two touchdowns on returns off turnovers for Old Dominion (1-2). Quarterback Grant Wilson threw for 233 yards with a touchdown and an interception.
Old Dominion racked up 277 first-half yards but only 23 after intermission.
Wake Forest produced its key turnover on Jacob Roberts' sack of Wilson to set up the go-ahead touchdown. The Monarchs had two more possessions, but never picked up another first down.
The Demon Deacons didn't score until Morin's 27-yard touchdown reception from Griffis on the eighth snap of the second half.
The momentum didn't carry to the next time Wake Forest had the ball because James picked off Griffis and went 66 yards for a touchdown and a 24-7 lead.
Matthew Dennis kicked two field goals from 36 yards out before the end of the third quarter.
The Demon Deacons closed within 24-20 after Griffis and Morin hooked up for a 48-yard touchdown play to complete another eight-play drive, this one covering 86 yards.
Old Dominion led 17-0 at halftime despite a rather uninspiring opening stretch. On their first four possessions, the Monarchs had three punts and a missed field goal.
But they got cranked up when Javon Harvey went 68 yards on a pass from Wilson less than two minutes into the second quarter.
That was followed by James' 80-yard return of a fumble for a touchdown. Ethan Sanchez connected from 49 yards out for a field goal with 2:27 to play in the half.
Wake Forest posted only 107 yards of total offense in the first half.
—Field Level Media