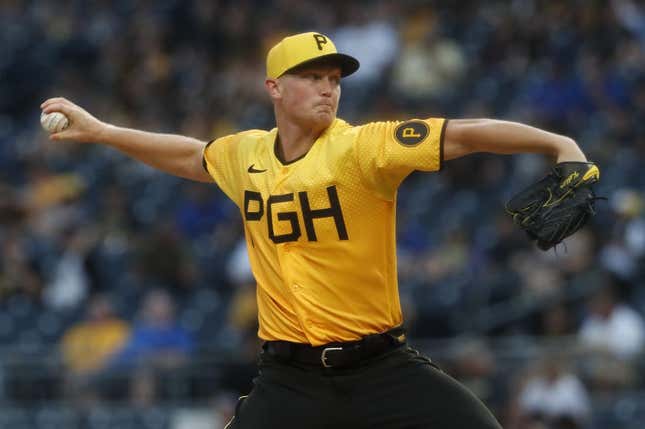 After a rocky stretch that began in July, Pittsburgh Pirates starting pitcher Mitch Keller has regained the early-season form that earned him an All-Star Game appearance.
Is Texas or Florida State a bigger national title contender? | Agree to Disagree
Keller will try to stay on a roll Friday when Pittsburgh visits the St. Louis Cardinals to open a three-game series.
Keller (11-8, 4.01 ERA) is coming off a 2-1 victory over the Chicago Cubs last Friday. He threw eight scoreless innings in that game, holding the Cubs to four hits while striking out six.
"I know this was another special night for him, but it feels like it's the same every time he's out there," Pirates catcher Jason Delay said. "I've said this many times, but he's got so many weapons. When he's able to mix those weapons in the zone, every time he goes out there, he has a chance to do something special."
Keller struggled in his first four starts after the All-Star break, allowing eight runs twice and six runs once. He went 0-4 with a 9.97 ERA. But in his last three starts, Keller is 2-0 with a 1.35 ERA and has allowed 16 hits in 20 innings. He struck out 25 during that span and walked only four.
"I always knew that I was good and I felt good out there and had good stuff," Keller said. "It was just figuring out what was different. I think compiling and figuring out what was working has been huge."
Keller allowed three runs on seven hits in a no-decision against the Cardinals on April 16. Lars Nootbaar hit a homer and Willson Contreras and Nolan Gorman hit doubles off him in that game, which the Pirates (61-73) eventually lost 5-4 in 10 innings.
Keller is 2-1 with a 3.51 in nine career starts against the Cardinals.
The Cardinals will counter with right-hander Dakota Hudson (5-1, 4.41), who will continue his campaign for a rotation slot next season.
Hudson won his first four starts in August but struggled against the Phillies on Saturday in his most recent start. He allowed five runs on six hits with five walks in 5 2/3 innings in a 12-1 loss at Philadelphia.
"I felt like I was in a good rhythm, but I left the bullpen maybe a little bit overconfident," Hudson said. "I just wanted a piece of these guys, and I got a little bit big and outside myself. I think that kind of just threw off my game a little bit.
"I think because I was trying to put everything I had into my pitches, that's why it became a little off, a little under, a little in, as opposed to just making that good, connected throw over the plate."
Hudson is 2-1 with a 5.64 ERA in 10 career appearances against the Pirates, including six starts.
The Cardinals (58-76) could gain reinforcements for the series. Nootbaar (lower abdomen contusion) and closer Ryan Helsley (forearm strain) hope to return.
Helsley last pitched in the big leagues on June 7. Medical examinations of his forearm and elbow this summer found no structural damage.
"They were very pleased with how everything looked, and I haven't had studies like that done since 2018," Helsley said, per MLB.com. "And they were pleased with how much I've thrown in the past four or five years, and everything still looked good. There wasn't anything concerning, and now we're just going off my feel and responses."
—Field Level Media