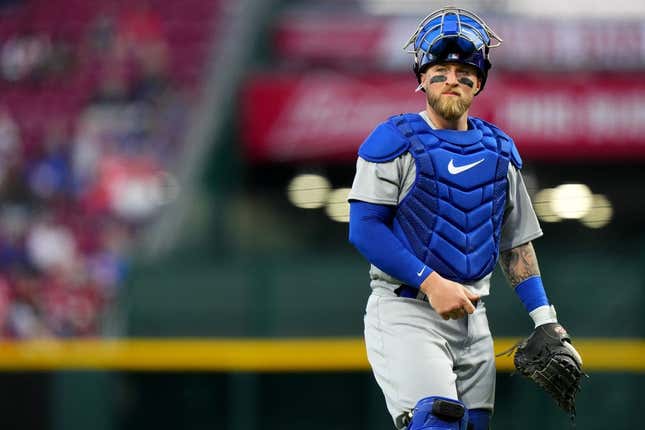 Catcher Tucker Barnhart continues a special reunion Tuesday when his Chicago Cubs visit the Cincinnati Reds in the second game of their three-game series
After spending last season with the Detroit Tigers, Barnhart returned to Cincinnati on Monday for the first time since finishing his eighth season with the Reds in 2021. Monday also marked the nine-year anniversary of Barnhart's big league debut with the Reds
A two-time Gold Glove winner, the 32-year-old Barnhart -- who singled in his first at-bat Monday -- was a core leader of the 2020 Reds team that qualified for the playoffs on the last weekend of the season
Asked about his remembrances of playing for the Reds, Barnhart said several came to mind
"Personally, (winning) both my Gold Gloves (in 2017 and 2020), making my debut (in 2014), I mean the list goes on and on, And I played with so many awesome teammates that I still stay in touch with. They showed me how to become a major leaguer and ... what it was like to do it every day, and the list goes on. This is a place that I'll never forget. That's for sure.
"It's surreal in a way. I think when you get drafted, you are set up to make to the big leagues, (and) you really don't see yourself kind of in a different uniform, I guess, until it actually happens. So many fantastic people that I've come across that made such an impact in my life (and) will always hold such a special place in my heart."
Reds manager David Bell got an extended chance to greet his club's former catcher on Monday
"The first time I got to see him (was) really briefly when we played them in spring training," Bell said. "It was great to see him and crazy how much time passes but, in some ways, he still seems like part of the team. He was such a big part of our team, part of the community here and part of the organization."
Dansby Swanson, signed to a seven-year, $177 million contract in the offseason, is proving his worth in the first four games for the Cubs. The shortstop was 3-for-5 with two runs scored Monday and is 10-for-17 (.588) with a 1.317 OPS
Hayden Wesneski (3-2, 2.18 in six games in 2022) makes his 2023 debut for the Cubs in starting the second game of the series. The right-hander was 3-1 with a 2.12 ERA and 22 strikeouts in five spring training starts, and did not allow a run in his first 11 2/3 innings of Cactus League action
Wesneski is making his second career start and third appearance vs. Cincinnati. He is 1-1 with a 0.82 ERA in the two previous outings, including his major league debut last Sept. 6, when he picked up the win in relief with eight strikeouts over five scoreless innings.
The Reds answer with reliever-turned-starter Luis Cessa (4-4, 4.57 in 2022). Cessa is making his 11th career appearance and third start vs the Cubs. He has no wins or losses against them, and an ERA of 4.00 in 18 innings with 18 strikeouts
In 2022, his second season with the Reds, the right-hander made a career-high 10 starts
Cessa made the move from the bullpen to the Cincinnati rotation in August when Luis Castillo and Tyler Mahle were traded and Hunter Greene, Robert Dugger, Graham Ashcraft and Mike Minor landed on the injured list.
--Field Level Media