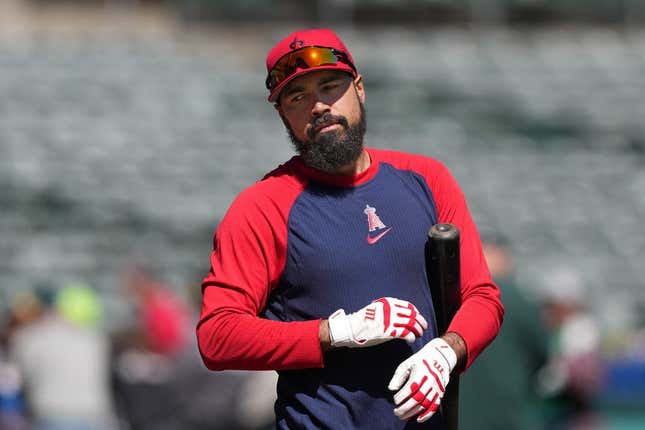 Los Angeles Angels third baseman Anthony Rendon declined comment Saturday as Major League Baseball investigates an incident he had with an Oakland Athletics fan on Thursday night
Air Jordans are more American than McDonald's French fries | Deon Cole's Ultimate Sports Fantasy
The incident occurred shortly after the final out of the Angels' 2-1 loss at the Oakland Coliseum on Opening Day
In a 12-second video of the incident, Rendon grabs the fan's shirt through a railing in Oakland and accuses him of calling him a "b---." The fan denied the name-calling and Rendon called him a "motherf---er" and took a swipe at him but missed.
Asked about the incident before Saturday's afternoon game, Rendon said, "I'm sorry, I can't comment."
Angels manager Phil Nevin said that testy interactions between players and fans aren't rare
"This happens a lot unfortunately," Nevin said. "A lot of times we just don't see it. You're going to hear things all the time. You hear a lot. Right now, I just don't want to comment on the incident involving Anthony or anything that goes along with it."
Rendon, 32, was 0-for-3 with two strikeouts and a walk on Thursday. The team had Friday off. He was batting cleanup for Saturday's game.
Rendon has been a big disappointment for the Angels as he begins the fourth season of a seven-year, $245 million deal. He has just 20 homers and 89 RBIs and a .250 average in 158 games over three seasons plus Opening Day
Last season, a wrist injury helped limit Rendon to 47 games. He batted. 229 with five homers and 24 RBIs.
--Field Level Media