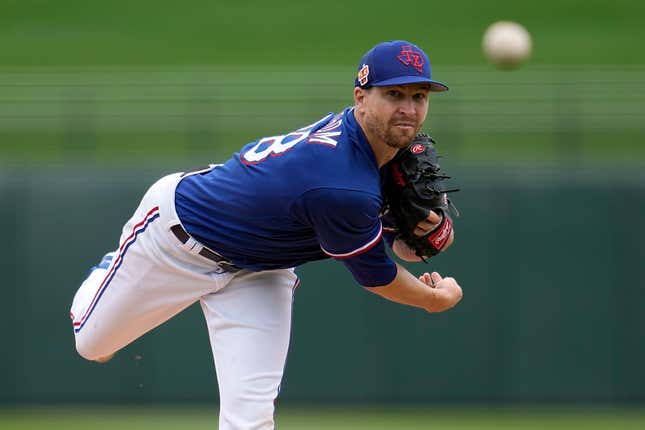 Has there been a closer franchise to winning a World Series ever that never reached the pinnacle than the Texas Rangers? The Dallas-Fort Worth Metroplex's Major League Baseball team had multiple squads good enough to be the sport's last team standing over the last 15 years and never got it done. Standing one strike away twice during Game 6 of the 2011 World Series, and not finishing the job against the lucky St. Louis Cardinals, who were outmatched for most of that seven-game championship tilt, is still a memory that hurts for Rangers' fans a dozen years later.
The best ERA+ belongs to who? | Stats that will blow your mind
What made those Texas teams so great was their offense. Josh Hamilton, Nelson Cruz, Michael Young, Ian Kinsler, Adrian Beltre and Elvis Andrus. How do you pitch around that? Answer: No one did. Teams took their lumps and tried to give the Rangers more. How could those opponents find a way to beat Texas? Easy, it's crappy rotation and bullpen. The Rangers consistently acquired and failed to get the best out of several pitchers any team would consider an ace. Cliff Lee, Yu Darvish, Kevin Brown, Cole Hamels. All wasted. And now, Jacob deGrom takes the mound for the franchise on Opening Day. When healthy, deGrom is at worst the third-best pitcher in baseball. And with a manager who has a phenomenal reputation for developing pitchers can be what the organization has truly never had — a consistent safety net on the mound.

Every five days or so, deGrom makes life much harder for an opponent. And in a tight division or Wild Card race, where every game matters, having that many quality innings from one person aren't a luxury most teams have. And Texas' lineup this season isn't quite as stout as those from a dozen years ago, but it's no doubt solid. And after a rocky 2022, having a year in Arlington behind Corey Seager and Marcus Semien should bring out their best qualities. Not to mention behind DeGrom kickstarting the rotation, Nathan Eovaldi is a solid No. 2, with Martin Perez, who proved to be the Rangers' best pitcher last season, up next. Rounding out the group should be Jon Gray and Andrew Heaney. Texas has had so much worse over the years.

Does anyone believe deGrom can stay healthy?
So here's the biggest elephant in the room when it comes to deGrom. Who actually believes he'll stay healthy the entire season? I'm sure there are true believers that he can do it, but DeGrom didn't even make it through Spring Training without a setback. It's more likely a matter of when and how much time he's hurt, compared to if he ever hits the IL. And that's the risk you run with deGrom. It's a necessary risk, but still could burn Texas. A healthy deGrom puts the Rangers firmly in a playoff spot, as the AL West title might still be a little out of reach even with a healthy ace. The trash can-banging Astros still are really damn good. Without the potential that deGrom possesses, Texas falls to the wrong side of the bubble.
Texas Rangers have struggled with great pitching
What are the reasons Texas has struggled with great pitching in the past? In the case of Hamels, the switch from the National League proved to be too much and he was never fully invested in being a Ranger. He just wanted a ring. Brown was too young and then had success with the Yankees. Lee is similar to Hamels, just never found his groove playing home games in a hitter's park. Darvish had the most success, but his faults, and probably some to go around for everyone on this list, can be attributed to bad management. As great as Ron Washington, Jeff Banister and others were at times, obvious mistakes happened from the dugout more often than they should have for a team hoping to contend for a World Series. Bruce Bochy won't make dumb mistakes. At 67, he won't lead the future of baseball with innovative tactics. He'll make sure he's not in the way of success. He came out of retirement to take this gig. Bochy could be happily playing golf and not worrying about deGrom. He came back because he's a baseball junkie. (I'm so tempted to make a joke at Washington's expense, but that won't take that line.) If deGrom fails in Texas, it will be on deGrom, which is a scary thought for him and the rest of the American League.