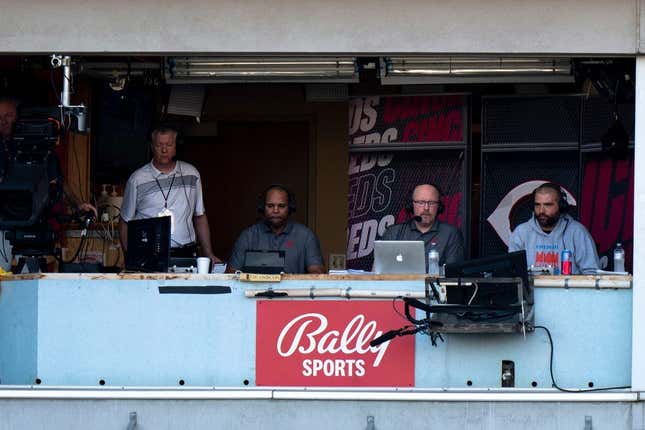 Major League Baseball continues to make hurried plans to pick up coverage of more than half of the team broadcasts amid a financial nosedive by two primary regional sports networks.
AT&T Sports Net and Bally regional sports networks entered bankruptcy and already failed to produce payments of $140 million due to MLB in mid-February.
MLB hired three new executives on Wednesday, admitting the pressing need surrounds the collapse of regional operators that say they don't have money to make required payments for the rights to televise games for 17 teams: the Arizona Diamondbacks, Atlanta Braves, Cincinnati Reds, Cleveland Guardians, Colorado Rockies, Detroit Tigers, Houston Astros, Kansas City Royals, Los Angeles Angels, Miami Marlins, Milwaukee Brewers, Minnesota Twins, Pittsburgh Pirates, St. Louis Cardinals, San Diego Padres, Tampa Bay Rays and Texas Rangers.
"These new hires are an important step in our preparation to address the changing landscape of MLB game distribution in light of the increasing challenges and pressure facing regional sports networks," MLB chief revenue officer Noah Garden said in a statement.
To address the potential default and bankruptcy matters with the sports networks and tie together alternative options, MLB said Wednesday that Doug Johnson was hired as senior vice president and executive producer of local media, Greg Pennell as senior vice president of local media and Kendall Burgess as vice president of local media technical operations.
Sinclair Broadcasting, part of Diamond Sports Group and the operator of Bally's Sports, has rights to 14 MLB teams but reported standing debt of more than $8.6 billion with another $1 billion in rights fee payments due by the end of March. Even so, MLB hired Sinclair chief financial officer Billy Chambers as executive vice president of local media effective Feb. 1.
AT&T, part of Warner Bros. Discovery, told the Rockies, Astros and Pirates they weren't able to make rights fees payments this month and expected to enter Chapter 7 Bankruptcy.
--Field Level Media