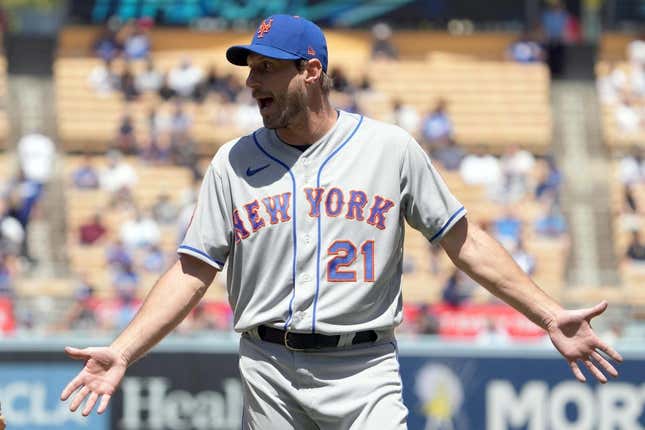 Major League Baseball suspended New York Mets pitcher Max Scherzer for 10 games and fined him an undisclosed amount on Thursday for using a grip-enhancing foreign substance
Bass' ERA stinks, but not compared to who he is off the mound | Worst of the Week Countdown
Scherzer, who was ejected from a game Wednesday at the Los Angeles Dodgers and declared his innocence afterward, appealed the decision. He can continue to play until the appeal is decided by MLB special adviser John McHale Jr.
The right-hander was fined $10,000, the New York Post reported.
The three-time Cy Young Award winner was ejected before the bottom of the fourth inning after umpires examined his glove.
It was the second glove examination in two innings for Scherzer, after umpires requested that he change gloves before the bottom of the third inning. Crew chief Phil Cuzzi ejected Scherzer after discovering a second issue with the glove.
Michael Hill, MLB's senior vice president of on-field operations, announced the discipline.
The league said in a statement: "MLB reviewed relevant video and first-person reports, including a report from the umpiring crew led by Crew Chief Dan Bellino. Despite having been warned earlier in the game, including being required to make an equipment change, Mr. Scherzer was found to be in violation of the foreign substance prohibitions of the Official Baseball Rules prior to the bottom of the fourth inning."
Scherzer maintained after the game that all he used was sweat and rosin, a substance which is legal for pitchers but not when used excessively or applied directly to the glove.
"(Cuzzi) said my hand's too sticky," Scherzer said Wednesday. "I said, 'I swear on my kids' lives, I'm not using anything else. This is sweat and rosin, sweat and rosin.' I keep saying it over and over, and they touch my hand, they say it's sticky. Yes, it is, because it's sweat and rosin. They say it's too sticky. They threw me out because of that."
Bellino, the plate umpire, told a pool reporter on Wednesday, "Both Phil (Cuzzi) and I touched his hand. As far as stickiness, level of stickiness, this was the stickiest that it has been since I've been inspecting hands, which now goes back three seasons.
"Compared to the first inning, the level of stickiness, it was so sticky that when we touched his hand, our fingers were sticking to his hand. And whatever was on there remained on our fingers afterward for a couple innings, where you could still feel that the fingers were sticking together."
Cuzzi added, "I said this to Buck (Showalter, the Mets' manager,) and to Max, it really didn't matter to us what it is. All we know is that it was far stickier than anything that we've felt certainly today and anything this year, and so in that case, we felt as though he had two chances to clean it up, and he didn't.
Scherzer, 38, gave up one hit over three scoreless innings with two walks and three strikeouts over 47 pitches.
--Field Level Media