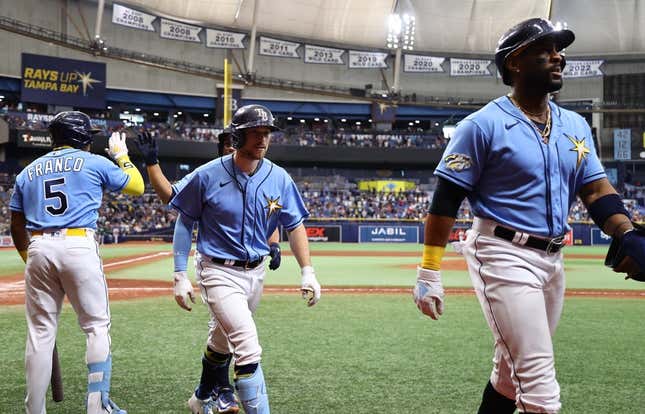 The Tampa Bay Rays are hot, the games have been quick and some clubs already are extending beer sales into the eighth inning, which means it's never too early in the season to make decisions that impact the bottom line.
'Soccer fandom is full of gatekeepers' says Ted Lasso actor Brendan Hunt
While much of the efficient happenings in baseball have come as expected -- looking at you, pitch clock -- there have been expectations exceeded, while some teams and players are in need of wake-up calls.
--THREE BEST SURPRISES
1. Tampa Bay Rays
All hail St. Petersburg's finest.
The Rays opened the season with 11-consecutive victories to nail down the first 11-0 start since the 1981 Oakland Athletics. It was tied for the fifth-best start to open a major league season, as long as we count 1884's St. Louis Maroons (20-0) and New York Gothams (12-0).
The Rays' 29 home runs through 11 games tied the St. Louis Cardinals' record set in 2000. On the pitching side, Tampa Bay had baseball's top ERA (1.73), WHIP (0.93) and opponents' batting average (.185). Somebody alert the fan base. Attendance was 16,724 per game through the first eight home dates.
2. Arizona Diamondbacks
In 2021, the Diamondbacks were forced to slither back into their hole after a 110-loss season, making the somewhat surprise move to retain manager Torey Lovullo.
It looks like a sound decision now as Lovullo has maneuvered all of the team's (fast) moving pieces into an early winner. Arizona lacks power but makes up for it by being one of the best base-running teams in baseball. And their lightning quick outfield is a pitcher's dream. The D-backs are 5-3 against the Dodgers making them wish they had more division games this season, not less.
3. Luis Robert, White Sox
It is not as if Robert is incapable of a power surge but his hot start surely has helped quiet some of the talk that he may never meet expectations on the Southside.
What Robert needs to turn back into the MVP candidate that was projected is better health. A bevy of issues held him down the past two years. His five early home runs had him tied with Pete Alonso, Bryan Reynolds and Ryan Mountcastle for the MLB lead. Aaron Judge is stalking the early leaders in the Home Run Handicap.
--THREE WORST SURPRISES
1. Los Angeles Dodgers
Trea Turner departed via free agency and his replacement at shortstop, Gavin Lux, was lost for the season with a knee injury. But the area that has hurt the Dodgers most is in the bullpen, which had a dreadful 4.70 ERA through 12 games. That's up from last year's NL-best 2.87 mark. At .500 early in the second full week of the season, LA did have a plus-19 run differential, second best in the NL and fifth best in baseball, pointing toward an inability to win the close games.
2. Alex Bregman, Astros
The World Series champions were off to a sub-.500 start through the first dozen games with an OPS of .709 that was 21st in baseball.
Bregman finally hit a home run Tuesday, but it came in a loss to the Pittsburgh Pirates. The veteran is off to his second-consecutive slow start with a .188 batting average and a .587 OPS. He did mash in August last season to get his numbers respectable again, although the Astros would rather not wait that long in 2023.
3. Philadelphia Phillies
A hot dog for $1 sounds like an affordable meal, unless we are talking about Philadelphia, where fans on Tuesday changed the food promotion into $1 flying-projectile night to protest the home team's sluggish play. The defending NL champions have mustard on their collective faces following a 4-7 start that was, at that point, merely a half game better than the rebuilding Washington Nationals.
Staff ace Aaron Nola (0-2) was saddled with a 7.04 ERA through three starts.
--Field Level Media