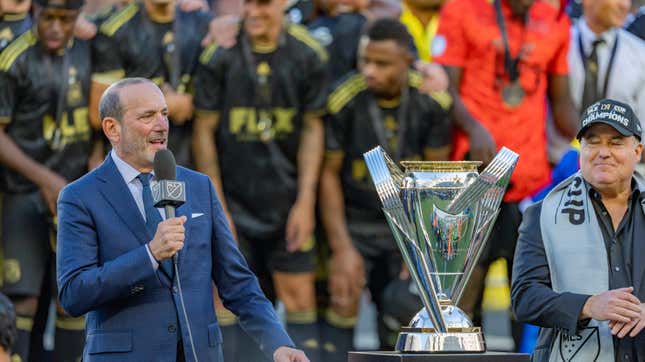 It tells you pretty much everything you need to know about Major League Soccer that A) the season starts in five days and you likely didn't know that, and B) with only five days to go is when the league actually finalized what the playoff system for this season will be. That's right, teams didn't know exactly what they were playing for until they were already training for their season openers.
Where is the money the NFL promised to Black-owned businesses? | The SEO Show
The league has been trying to tinker with its playoff system for most of the offseason, trying to figure out how to boost the number of playoff games it will offer on its first-of-its-kind streaming deal with Apple TV. They are the first league to commit fully to a streaming service, and because they think that what fans only care about is the playoff games in the fall, they wanted to find something that would provide an inordinate amount of that.
So here's the deal now. Nine teams in each conference will make the playoffs. That's up from seven last season. The eighth-seeded and ninth-seeded teams in each conference will have a play-in game, and then the winner of that will face the top seed. The top seeds in each conference will no longer get a bye through the first round, as they did in the old system.
The first round of the playoffs will be best-of-three, with no draws. MLS dabbled with this in its original playoff system, with a three-game system in which the first team to reach five points in the three games would take the series (two wins, one win, two draws, etc). This is a straight best-of-three, so draws will be decided with…penalties? It hasn't been cleared up yet, but that would seem to be the only route. Fans have definitely been clamoring for more penalties.
After the first round, the rest of the playoffs will proceed in a single-elimination format as we've had before, culminating with MLS Cup at the higher seed's home.
Wrong problem, sir
MLS is certainly the first one through the wall here, though almost every other league will get more and more into the streaming life in the coming years. The NFL Sunday Ticket is now YouTube TV property, after all. But MLS is the first to completely give itself over to something like this.
And what they need to combat is to get people to pay to watch a product that they didn't really watch when it was on cable. MLS's ratings on ESPN and Fox were anemic, and it was a chicken-and-egg argument as to whether both networks' less than full-throated production and coverage of the league either contributed to the low ratings or were due to them. Certainly, that won't be an issue for Apple, with MLS itself spearheading the production. It will look and feel better, if you have Apple TV.
But a lot like the NHL, MLS fandom is extremely parochial. Fans in Columbus love going to and watching Crew games, but they're not all that interested in watching Minnesota-Real Salt Lake. Perhaps being a one-stop shop now will change that, or so the league and Apple hope, instead of fans having to navigate the web of Fox, ESPN, or games on ESPN+. Still, this ballooning of playoff inventory feels like the league hedging their bets on that, and taking the position that fans will merely "put up" with the regular season so they can get access to the playoffs.
But is that really the case? It's not as if soccer doesn't have an audience in this country. MLS is now giving itself two obstacles. One, they can't do much about, is that fans know that MLS is hardly the top soccer league in the world. That makes it unique in American sports. Even NWSL is no worse than the second-best league in the world, and probably still the best even with England's WSL suddenly gobbling up a lot of money. Fans know it's just a lesser product than what they've been watching on Saturday and Sunday mornings and afternoons from around the globe.
But the other obstacle that the league is making worse with this change is that MLS' regular season doesn't mean much. Soccer can be a hard game to watch when there's no urgency, and what urgency is there in the regular season now? Even getting the top seed in a conference doesn't really get a team much, with the bye taken away. CONCACAF Champions League spots go to the two conference winners, and maybe that's enough, but if you're in second or third, or fourth in a conference with five games to go, how balls-out are you going for that?
Adding more middling teams to the playoff isn't going to force more teams to improve themselves greatly either. A best-of-three in the first round weights things to the higher seed when there's a clear difference between teams, say No. 1-No. 8, but can you really split the No. 4 and No. 5 seeds or even the No. 3 or No. 6 in an MLS season? This will only encourage teams to be part of the blob than to stand out. Which will only further turn the regular season product into mush.
Soccer fans have grown accustomed to watching games from other leagues where pretty much every game means something to at least one of the teams. What's the New York City FC vs. Atlanta United game in July going to mean? Fans are sophisticated enough to know the difference. The difference in quality is something most fans accept and are good with. But watching teams shuffle through the motions through a season that has been devalued even more is probably where they draw the line.
What MLS and Apple have created here is a system that might have a host of viewers purchasing the MLS package on Apple TV just in time for the playoffs while ignoring the season. And they've made that the attractive option by making the regular season worth less.
We won't get into yet another promotion/relegation shtick, there's more than enough out there and everyone knows the bullet points by now. But adding more playoff teams makes the longer portion of the season, the regular season, seem even longer. Especially in soccer, the season should feel like a journey instead of a DMV waiting line. The race to finish fourth in the Western Conference isn't exactly romantic. MLS is coming off a season with maybe its most iconic final between Philadelphia and LAFC. Both those teams finished atop their conference, and were pretty clearly the best two teams in the league. MLS should be finding ways to make more teams want to be that, instead of giving them more avenues to try and be the team that picks them off in the playoffs with one good or lucky performance.
Instead, it's this. $79.99, please.