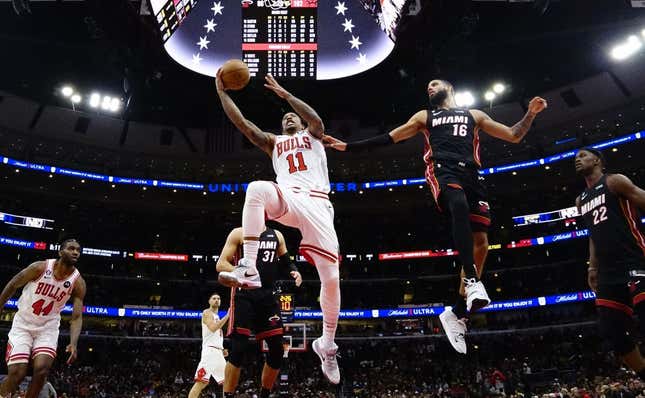 While the Milwaukee Bucks await the winner of the Miami Heat and Chicago Bulls play-in playoff tournament finale on Friday night, the underdogs are a hot ticket for bettors
Air Jordans are more American than McDonald's French fries | Deon Cole's Ultimate Sports Fantasy
Miami is favored by 5.5 points but 80 percent of the handle at BetMGM rides on the Bulls to cover that number, and 83 percent of the handle backs Chicago on the moneyline to win the game outright
Chicago advanced by recording a 109-105 comeback victory over the host Toronto Raptors on Wednesday. The visiting Bulls should be confident in the winner-take-all scenario as they are 3-0 against the Heat this season, including two wins in Miami
The Heat are in this position after losing 116-105 to the visiting Atlanta Hawks on Tuesday, the first day of the play-in festivities. The Hawks advanced to the playoffs as the No. 7 seed against the No. 2 Boston Celtics
"We've had a lot of ups and downs this season. Nothing about this season has been easy," Heat coach Erik Spoelstra said. "We're going to do this the hard way.
Among the popular prop bets at BetMGM, the most bets (total tickets) are on Bulls guard DeMar DeRozan scoring over 21.5 points at -140 odds
He had 37 points at Miami in the season opener in October in a 116-108 win and 24 in the same building as part of a 113-103 win on Dec. 20.
But Spoelstra said he won't trot out the same starting lineup against Chicago that he did against Atlanta, and surely changes are in store for covering the Bulls' potent 1-2 punch of DeRozan and Zach LaVine
"This is going to have a different feel than Atlanta, for sure," Spoelstra said. "I wouldn't even just say the starters, but who we bring in off the bench might be a little bit different than what we used against Atlanta."
Miami trailed by as many as 24 points in the second quarter and was physically dominated on the boards as Atlanta had a 63-39 rebounding advantage and a 26-6 edge in second-chance points. Star Jimmy Butler scored 21 points but had a shaky 6-of-19 effort from the field.
Butler vows the result will be different on Friday.
"We have to stay confident," Butler said. "We have to know we are capable of winning -- if we start out the right way and if we rebound, obviously. I don't know, shots don't go in, we foul -- that's never the recipe for success with us. So come Friday, we've got to play, like, legit the exact opposite that we played (Tuesday night)."
The Bulls overcame a 19-point third-quarter deficit to beat the Raptors and stay alive
LaVine poured in 30 of his 39 points in the second half and DeRozan added 23 for Chicago.
"There's not too many people in this league that have the talent that Zach has," DeRozan said of his star teammate. "It feels good just to see him get appreciated from the moment that I got here. I wanted everything to come his way in a positive nature because I know how hard he works, how much he cares about the game and he's a hell of a person."
When reminded of Chicago's regular-season success against the Heat, LaVine said it is a non-factor
"They're going to make adjustments. We are, too," LaVine said. "It's going to be whoever wants it more. I think it comes down to that."
The Bulls have been playing their best basketball of the season in recent weeks after a shaky campaign in which they were last above .500 at 5-4 on Nov. 2
But Chicago won 11 of its final 17 regular-season games and continued its rise with the rally against Toronto.
"I think that's why our team is set up for success, we got two killers in Zach and DeMar," guard Alex Caruso said. "That's all we got to do is play our roles and then we know we got two killers that down the stretch of the game can go get a bucket on just about anybody in the league."
While Butler was struggling, Miami got surprise help from Kyle Lowry, who poured in 33 points against the Hawks for his highest scoring output in two seasons with the Heat
Lowry was 11-of-16 shooting -- he made six 3-pointers -- but experienced left knee soreness after his strong effort. He is listed as questionable against the Bulls but doesn't figure to miss the game with the season on the line
Miami guard Gabe Vincent (hip) also is questionable. He scored six points in 24-plus minutes against Atlanta.
--Field Level Media