It's not often that a film stays with you days after you've watched it. But Montage of Heck, Brett Morgen's extensive, beautiful, and devastating documentary on late Nirvana frontman Kurt Cobain, utterly sticks to your ribs.

The doc—which hit a few theaters April 24, and airs tonight on HBO—is a thorough, sprawling look into Cobain's short life, filled with journal entires, home videos, family photos, and talking-head interviews, with the biggest gaps in his personal history filled in with animations. It feels complete. You see every version of Kurt: artist, son, rock star, friend, husband, father. You get to know someone who's funny and complicated and genuine, and not just an alt-rock icon or a junkie or a cultural abstraction. Above all, it makes him feel like a real person. And I guess that's what makes the loss feel a bit more real.
Montage of Heck gets its name from a cassette Cobain made in 1988, when he was barely out of his teens. The movie starts from the very beginning with his birth in Aberdeen, Wash., then traces through his childhood, adolescence, rise to fame, and subsequent struggles with fame (and heroin). It also explores his relationships with his parents, his lovers, his daughter, his band, and, perhaps most troubling to him personally, his rabid fans.
The different parts of the story are woven together with animation done by Dutch filmmaker Husko Hulsing, which bring to life aspects of Cobain's life that only existed in his journals previously, putting his own words and drawings up on the big screen. Turns out he was a talented visual artist, too, which was not exactly an unknown fact, but it's such a centerpiece here that you're left with the idea that everything he created was an authentic part of him, rather than a means to become famous or serve some other dubious motivation.
G/O Media may get a commission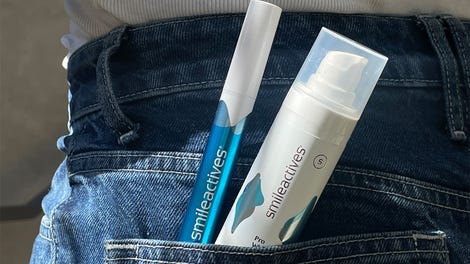 58% off
Whitening Powerhouse Pen & Gel Duo
This is certainly not the first depiction of Kurt Cobain on film. In 2005, Gus Van Sant put out Last Days, the fictional tale of a rock musician named Blake who succumbs to the intensifying pressures of fame, goes into isolation, and presumably kills himself. But that was more an artistic interpretation. There was also 1998's lurid Kurt & Courtney, a documentary that explores Kurt's tumultuous relationship with wife Courtney Love, and more or less endorses the conspiracy theories that she might have killed him herself. But both those films focus on his death and its aftermath; Montage of Heck focuses on his life and all its complications.
It's also the one and only Kurt Cobain project with the approval of his family, including his and Courtney's daughter, Frances Bean Cobain, who serves as executive producer. That might seem odd on paper, but once you see the film, it feels perfect. She barely knew her dad; he died when she was about a year and a half old. The footage here is about as close as she can get to him.
Montage of Heck doesn't skimp on the music, either. In addition to the millions of fans Nirvana attracted in real time, there are countless kids who got into them later—like me. I was a little too young to have been aware of them at the time, but that changed when I was in ninth grade around 2002 (eight years after Kurt Cobain's death), when I started stealing my older brother's CDs. This was back when you could download anything you wanted off Napster or Kazaa, and I went deep down the rabbit hole; I felt some sort of detached grief that this guy—someone who got it and understood the struggle—was gone before I even knew it. I think a lot of teenagers who've come of age since 1994 felt that delayed reaction, too.
Montage of Heck is a deeply personal look at Kurt Cobain's life, full of song lyrics, journal entries, home-life vignettes, horrifyingly self-deprecating messages to himself, and so forth, often rendered in Cobain's own hand onscreen. With no narrator and fewer talking heads than usual, it feels like he's telling his own story. Some parts of that story are uncomfortably personal: There's a lot of footage of Kurt and Courtney futzing around their dirty L.A. apartment, sometimes (often?) strung out on heroin. One scene in particular, they've just gotten out of the shower, and they're discussing Nirvana's upcoming gig at the 1992 Reading Festival, and you can't help but wonder why they were filming it in the first place. What was the plan for that footage?
Going into the film, I worried it would all be opportunistic, or something that only dredged up old Kurt memorabilia in order to cash in on a dead guy's talent. That was simply not the case. The result it tasteful, but not fluffed up. The only downside to the cut I saw is the notable absence of Nirvana drummer Dave Grohl; you hear from bassist Krist Novoselic, but that's it. Both of those guys have had infamous battles with Courtney Love over the years, but that's apparently not the culprit here: Morgen recently said that he did interview Grohl, but had to cut it from the version that screened at Sundance, though he may add the footage back in later. I hope he does.
Courtney is a constant presence here, of course, and I suppose it's hard not to have feelings on that, but Montage of Heck makes no judgements about her. Yes, it does note that Cobain preferred to be with strong women, and it does have a chain-smoking Courtney admitting on camera that she never cheated on her late husband, but she thought about it once, and he overdosed the next day. Otherwise, the effect she had on him, negative or otherwise, is something you are left to draw from the details yourself. Morgen told Rolling Stone that she never asked for "any editorial involvement," but was not denied access; while it's not crystal clear how involved Love was in the process, she did allow the director full access to Cobain's possessions, which is how Montage of Heck was able to happen in the first place. It's neither overly positive nor overly negative towards her, but it's worth pointing out that she was involved, and in many ways facilitated the whole thing.

Montage of Heck ends just after Nirvana's MTV Unplugged performance, taped in November 1993, just a few months before the end. But in that way it solidifies its commitment to celebrating a life—even the unpretty parts—rather than glorifying a death. You'll come away feeling sad anyway, of course, but there's finally an equal amount of insight to helps offset the sense of loss.

Top image via Getty; all other images courtesy HBO.