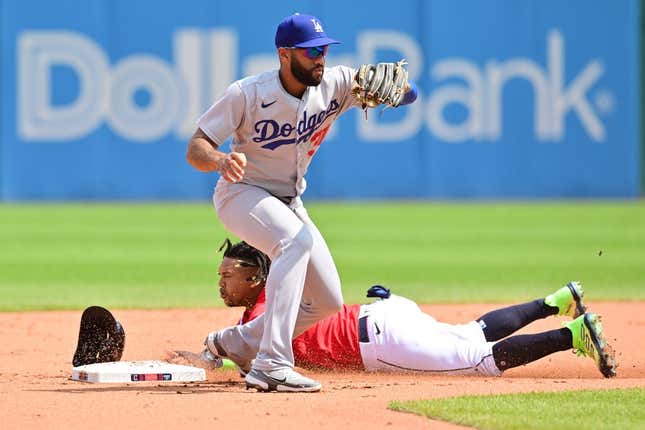 Mookie Betts delivered his second career five-hit game and drove in a pair of runs as the Los Angeles Dodgers earned a 6-1 victory over the host Cleveland Guardians on Thursday in the resumption of a contest that was suspended in the third inning Wednesday because of rain.
How running an NFL team is like running a restaurant | Chef Emeril Lagasse
The Dodgers and Guardians were set to complete their three-game series later Thursday.
The Dodgers mounted all the offense they needed on Wednesday before weather arrived, then added more offense before a one-hour, 13-minute rain delay paused the game further in the ninth inning.
Betts and Freddie Freeman opened the contest Wednesday with back-to-back singles off Guardians starter Xzavion Curry. Will Smith's sacrifice fly scored Betts, then Max Muncy doubled to send Freeman to third.
A two-out Enrique Hernandez double scored both Freeman and Muncy. Hernandez went 1-of-3 and drew a pair of walks.
Los Angeles wasted little time picking up where it left off before Wednesday's suspension. Freeman singled in the fourth off of Eli Morgan to drive in Miguel Rojas, extending the lead to 4-1. Freeman had three hits.
Los Angeles tacked on two more on in the eighth inning when Betts delivered a two-run double off the left-field wall.
Cleveland struggled at the plate after Jose Ramirez's first-inning home run off of Dodgers starter Clayton Kershaw.
The Guardians combined for just four hits against seven different Los Angeles pitchers. Gus Varland (1-0) earned his first major league win, striking out three over 1 1/3 innings. The Dodgers' Ryan Brasier had three strikeouts after Kershaw fanned four Wednesday in two innings.
Curry (3-2) to took the loss as seven Guardians pitchers surrendered a total of 14 hits, including five off of Curry and four off of Tim Herrin, who also gave up a pair of runs.
—Field Level Media