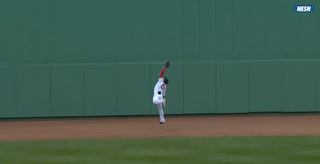 Check out Mookie Betts with the leaping catch. In Wednesday night's game against the Blue Jays, Betts covered a lot of ground to take away a hit from Devon Travis.
Did you know that while Betts was in the minors as a second baseman, he considered the possibility of going back to college and trying for a basketball scholarship, since Dustin Pedroia had a lock on the position for the Red Sox? Good thing Betts didn't consider that harder.
---
Contact the author at samer@deadspin.com.