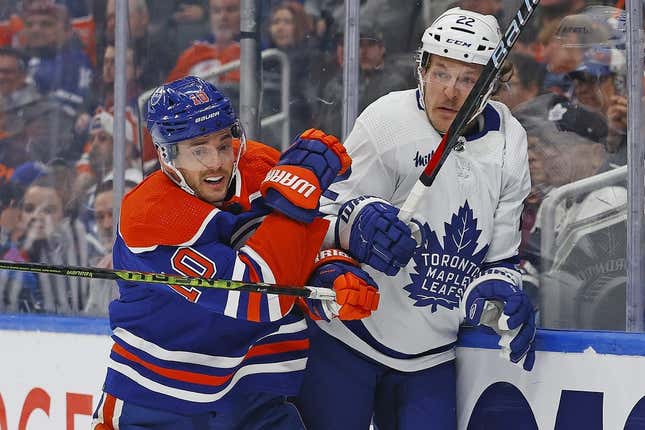 The Toronto Maple Leafs, who lost Wednesday with two newly acquired players in the lineup, could have two more newcomers in action Thursday when they visit the Calgary Flames.
Defenseman Jake McCabe and forward Sam Lafferty, both picked up in a Monday trade with the Chicago Blackhawks, made their Maple Leafs debut on Wednesday as Toronto fell 5-2 to the host Edmonton Oilers.
Defensemen Erik Gustafsson, brought in by Toronto from the Washington Capitals, and Luke Schenn, acquired from the Vancouver Canucks, are expected to play for the Maple Leafs on Thursday.
Maple Leafs coach Sheldon Keefe would not for a moment pin the Wednesday defeat, a game in which his side was left in the dust from the get-go, on McCabe and Lafferty.
"They played fine, it's the guys we regularly count on who weren't good enough. It's just disappointing," Keefe said. "We just didn't play with any purpose or intelligence."
Even so, McCabe wasn't happy with his performance. His slashing penalty a few minutes into the clash resulted in a Connor McDavid power-play goal that opened the scoring.
"It's different nuances, different systems, but a lot of guys were talking to me, making it easier," McCabe said of fitting in. "It will only get easier."
Toronto, which is attempting to hold off the Tampa Bay Lightning for second place in the Atlantic Division, saw its three-game winning streak end in Edmonton.
With goaltender Matt Murray (ankle) still a few days away from being activated, the Maple Leafs will turn to Joseph Woll to make his third appearance of the season on Thursday. Woll is 1-1 with a 2.57 goals-against average and a .929 save percentage.
The Flames, who are five points out of a playoff spot, will look to recover from a crushing 4-3 overtime loss to visiting Boston on Tuesday. Calgary outshot the league-league Bruins 57-20, erased an early two-goal deficit and took a 3-2 lead in the third period, only to lose in overtime for the second time in three games.
Calgary has a 5-13 record in extra-time games.
As disappointing as that defeat was, the Flames must turn the page knowing a lengthy winning streak is possible with a stream of similar performances.
"We're at the time of the season we need wins, two points," Flames forward Andrew Mangiapane said. "We have to come out, play the same type of game but win. There's nothing we can do but play, string wins together and get into a playoff spot."
While the club's offensive attack has been lacking, just as critical has been subpar goaltending. The Boston game was the eighth this season in which Calgary's goaltender surrendered a goal on the first shot he faced.
Jacob Markstrom has struggled much of the season, but he said it is best to rely on the abilities that made him runner-up for the Vezina Trophy last season.
"You have to stick to it and just got to work on details and work on the game and trust that the goalie position is so much more mental than a lot of people think and it's the confidence level," Markstrom said. "You've got to start building it in the gym and building it in practice."
--Field Level Media