Last night, at the Raptors-Nets game, Vanilla Ice inexplicably appeared as the halftime entertainment. Resident Canadian high-end potato salesman, Gourmet Spud, was in attendance. He filed this report.
With about five minutes left in the second quarter, the P.A. announcer let it be known that we should stay in our seats at halftime, as Vanilla Ice (not Rob Van Winkle, mind you) would be performing for our pleasure. I would say the reaction was a mixture of "is this a joke?" and ecstatic giggling. Please note that this was not heavily promoted. Halftime came, and two guys rushed to set up a tiny little platform for him to stand on. Then the lights dimmed, the bass (guitar?) riff for "Play That Funky Music" started, and out he came. He got a nice ovation, and he seemed to be in good spirits. The Raptors cheerleaders circled around him and started dancing, presumably so he didn't look so very alone up there.
After "Funky" finished, he did a mini back-and-forth with the crowd, before asking if we wanted some "Ice, Ice Baby". Suffice it to say, we did. So he went right into that song, the place went nuts, people were rapping along, the old couple next to me looked confused, and as quick as he started, he was done. He ran off to a pretty nice ovation, and I would say the whole thing was pretty positively received. As we were leaving the game (an ugly Raptors win over the Nets), I overheard one guy deadpan, "I definitely was not expecting to see Vanilla Ice tonight", which sums it up pretty well I think.
Oh, and during his mini-set, Vanilla Ice shouted "what's up, Canadaaaaaaaa?" about three or four times, which usually makes Canadians smile. Kind of like Nickelback asking a Portland audience, "HEY, ALL OF AMERICA - ARE YOU READY FOR SOME SUCK?"
****
Thanks for your continued support of Deadspin's perceived pro-choice Ding Dongery and SKEETS!. Barry will be here in a few.
G/O Media may get a commission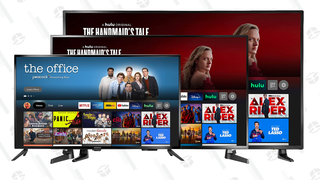 Up to 44% off
Prime Early Access - Insignia Fire TVs
Plus, tomorrow, we'll have live reports from Philadelphia's titty-puke extravaganza, The Wing Bowl, courtesy of feisty Philly miracle boy, Brian Hickey. So come back.