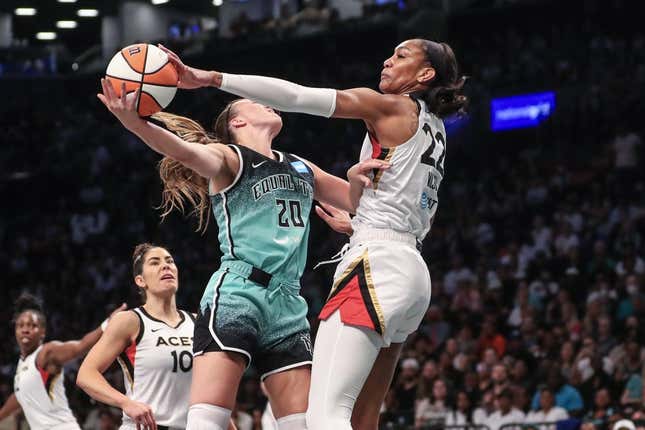 The Las Vegas Aces are closing in on the No. 1 seed in the WNBA playoffs. They have three regular-season games left to get it done, beginning Saturday night against the visiting Seattle Storm.
How running an NFL team is like running a restaurant | Chef Emeril Lagasse
Las Vegas (31-6) entered Friday with a two-game lead over the New York Liberty. New York was set to play third-seeded Connecticut later Friday night.
The Aces' magic number for the top seed was three. Because the Aces and Liberty split their regular-season series, a hypothetical tiebreaker would favor the team with the better record against opponents with a .500 winning percentage or higher.
The defending champions, who were also the No. 1 seed last fall, snapped their first losing streak of the season on Thursday. After consecutive losses at Washington and New York to conclude a four-game road trip, the Aces returned home and beat the Mystics 84-75. A'ja Wilson showed the way with 26 points (10-of-14 shooting) and 11 rebounds, while Chelsea Gray scored 21 points.
Aces coach Becky Hammon shouldered the blame for the two losses Thursday, saying she should have managed her players' fatigue better.
"Being great every night is hard," Hammon said. "It's hard, and they work their butts off every night to put on a great show every night. But we're spoiled watching their greatness and I don't think we should — myself included — take for granted how hard it is to be good on a night-in, night-out basis."
The Storm (11-25) have been eliminated from postseason contention and have four games left. They ended a three-game skid Thursday by beating the Los Angeles Sparks 72-61.
"Every game, we have a responsibility to show up and play to the best of our abilities and compete, and that's going to be the message today, tomorrow and moving forward," Storm coach Noelle Quinn said, per the Seattle Times. "No matter what the season has looked like ... our job is to show up every single day and play very hard."
WNBA leading scorer Jewell Loyd (24.2 ppg) put up 25 points but shot just 6-for-20 from the floor for Seattle against Los Angeles. Loyd made all 12 of her foul shots.
The Aces have beaten the Storm by an average of 30 points in their first three meetings this year. Jackie Young has averaged 24.3 points and shot 66.7 percent (10-for-15) from the arc against the Storm this year.
—Field Level Media