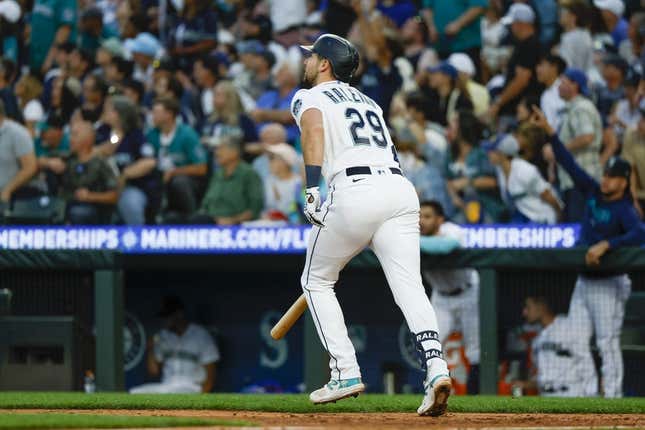 The Seattle Mariners have been through this before
Two years ago, the Mariners traded closer Kendall Graveman to the American League West rival Houston Astros, an unpopular move as Seattle was one game back in the wild-card race while trying to end a 20-year playoff drought
How running an NFL team is like running a restaurant | Chef Emeril Lagasse
Before Seattle's 6-2 victory against the visiting Boston Red Sox on Monday, the Mariners sent closer Paul Sewald to the Arizona Diamondbacks for three players. The series continues on Tuesday
This time, the Mariners' clubhouse was more subdued, perhaps because rumors of Seward's potential departure circled for the past week
"You could feel it the last three or four days," Mariners manager Scott Servais said. "There is some anxiety there with the world of social media and everything coming out there immediately and everybody's having opinions on what could or should happen
"It's not easy on players and players' families. It's real. The one thing you have to do and it's about being as professional as we can, come out here, do your work.
Cal Raleigh hit two solo homers on Monday as the Mariners moved a season-high four games over .500 and within 3 1/2 games of the AL's third and final wild-card berth
"Everybody loved Paul," Raleigh said. "He brought a good energy to the clubhouse, and he taught a lot of the younger guys in the 'pen how to do it. He's a professional always
"It's unfortunate to see him go and we wish him the best of luck, but it's out of our control. We can look at it two ways: We can pack it in, or we can keep going and trying to make this thing real and kind of prove them wrong.
Boston took its third straight loss and has scored three runs or fewer in its past four games, dropping 2 1/2 games back in the wild-card race
"You know you're not going to score runs all the time, so you want to win the battles," Red Sox manager Alex Cora said. "We got (Mariners starter George Kirby) out of the game soon enough and we put pressure on the bullpen, but we didn't catch them.
The Red Sox hope to have Justin Turner available on Tuesday after he left in the ninth inning on Monday. He hit the first base bag awkwardly when beating out a run-scoring infield single
"They're gonna check on him but he should be fine," Cora said. "It was his toe when he hit the bag, so we'll see how he feels.
The Tuesday game will feature a pair of 24-year-old right-handers, Boston's Brayan Bello (7-6, 3.66 ERA) and Seattle's Bryce Miller (7-3, 3.96)
Bello didn't get a decision in Boston's 5-3 victory against the Atlanta Braves on Wednesday, despite allowing just three runs on four hits over six innings. Bello won his lone previous start against the Mariners, beating them 12-3 on May 17 in Boston as he allowed one run on three hits in five innings, with five walks and seven strikeouts
Miller, who will be facing the Red Sox for the first time, is coming off an 8-7 victory at Minnesota on Wednesday. He gave up six runs on eight hits in 5 2/3 innings, with no walks and seven strikeouts
--Field Level Medi